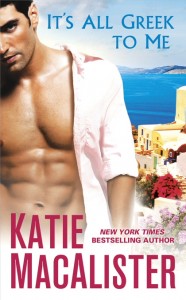 Title:
It's All Greek To Me
Author: Katie MacAlister
Genre: Contemporary Romance
Description: When Eglantine "Harry" Knight sets off for Greece at the last minute to step in as manager of a friend's touring band, the last thing she expects is to meet a billionaire Greek playboy. Iakovos Papaionannou is perfection on every level, except for his unpronounceable name. And Harry can't stop herself from falling hard and fast for him.
Iakovoos knew his sister hired her favorite band to perform at her birthday party; he's just not sure where this six-foot-tall, wild-haired, tempestuous woman fits in, or how she's already ended up in his bed-and in his heart. Harry is so not his type. She's as infuriating as she is intriguing, and she can't keep her hands off his butt. But she just may be the woman who knocks him off the world's most eligible bachelor list for good . . .
Review: This newest contemporary story by Katie MacAlister is very fast paced, even a bit too much I'm afraid. Everything happens really quick in this story. I know it's not unusual in these kind of stories for the two main characters to end up in bed at the beginning, but then usually there are some struggles or reasons why they can't be together etc. Here this is absolutely not the case. A real whirlwind romance, that has Harry moving in with her Greek Adonis by the 10th chapter. The only "problem" is Iakovoos brother, who has a drinking problem and likes to harass Harry. That and an ex-girlfriend of his looking to cause some trouble between Harry and Iakovoos is about all the drama you will get.
Harry on her own is definitely a force to be reckoned with. Not knowing when to shut up and rant after rant leads to some hilarious situations. So there is some humor in the story and Harry and Iakovoos have two opposite characters, which causes for some serious fireworks between them, keeping it entertaining.
It's All Greek To Me is not a bad story, but I feel it could have been so much more. I absolutely love the other Katie MacAlister books, both the contemporary as the paranormal, unfortunately I find this one lacking. Comparing this story with the others, you know she can do so much better. I would definitely recommend all her other books, but I'm afraid I don't believe this one is a must read.