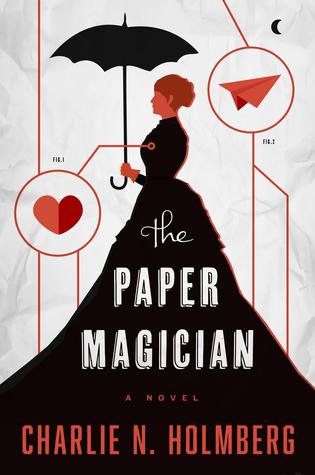 Ceony Twill arrives at the cottage of Magician Emery Thane with a broken heart. Having graduated at the top of her class from the Tagis Praff School for the Magically Inclined, Ceony is assigned an apprenticeship in paper magic despite her dreams of bespelling metal. And once she's bonded to paper, that will be her only magic…forever.

Yet the spells Ceony learns under the strange yet kind Thane turn out to be more marvelous than she could have ever imagined—animating paper creatures, bringing stories to life via ghostly images, even reading fortunes. But as she discovers these wonders, Ceony also learns of the extraordinary dangers of forbidden magic.

An Excisioner—a practitioner of dark, flesh magic—invades the cottage and rips Thane's heart from his chest. To save her teacher's life, Ceony must face the evil magician and embark on an unbelievable adventure that will take her into the chambers of Thane's still-beating heart—and reveal the very soul of the man.
I went completely blind into this story. All I saw was the pretty cover and my mind went "must have." I didn't even read the synopsis, I just started reading the story. Therefor I don't want to give too much away about the plot as I recommend you do the same as I. It will turn out to be a delightful surprise.
It's a tale about a paper magician and his apprentice. He's quite peculiar in her opinion and I fully agree. She needs to loosen up a bit. Yes, magic is serious business, but that doesn't mean you can't have fun with it.
Still this tale will take you into an unexpected world, teaching you the wonders of paper. It really is more exciting than it sounds, and that's what makes it so wonderful. At times almost whimsical, filled with pleasant surprises it will take you on a journey you couldn't even dream of.
All that positive of course needs to be balanced with something a little more evil. Not all magic is good and neither are people. With an act so cruel I had to reread it three times to believe it, wer are taken on another journey. I really feel like we almost get two stories. One about love and one about adventure. If you want to read an uniquely magical tale about love, the Paper Magician is one for you.
The Paper Magician Trilogy - Reading order and purchase links
Born in Salt Lake City, Charlie was raised a Trekkie alongside three sisters who also have boy names. In addition to writing fantasy novels, she is also a freelance editor. She graduated from BYU, plays the ukulele, owns too many pairs of glasses, and hopes to one day own a dog. She currently lives with her family in Utah.