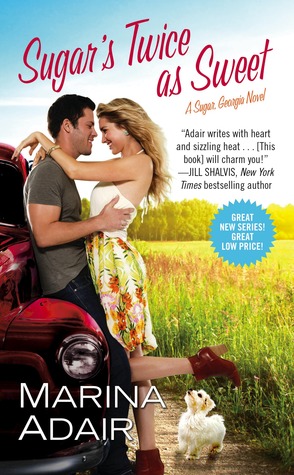 He's trouble she doesn't need . . .

Thanks to a cheating fiancé, Josephina Harrington's perfect life just crashed and burned. Moving in with her overbearing parents is definitely not an option. No, she needs to prove she can make it on her own. And she will-by turning her great-aunt's old plantation house into a destination getaway. She's just not expecting her contractor to be so hands-on-and so totally irresistible.

. . . but everything she wants

Bad-boy golf champion Brett McGraw figured his hometown of Sugar, Georgia was the perfect place to lay low and get his life back up to par. The leggy blonde with a pint-sized pup is the kind of sweet 'n sassy trouble he never saw coming. She doesn't know a nut from a bolt and before long, he's renovating her house . . . as she steals his heart. Can he convince Josephina that his womanizing ways are in the past and he's ready for forever?
Usually I'm a very big fan of stories involving small towns, because it always feels like being part of a big family. Now this might be the first time where the small town might actually scare me. Do not underestimate the old ladies, they are the worst.
The last time Josephina was in Sugar, she was a lot younger and therefore the town now sees her as an outsider. Her life has come crashing down and all Josephina wants to do is start over and where better than in Sugar. The little town holds nothing but good memories for her, mostly the support she always received from her recently passed great aunt. Turning the plantation house into a destination getaway is just what she needs. Still with most of the town against her and the cute man next door distracting her, it will definitely be a challenge.
Brett never made the ladies any promises, so when a certain video of him ends up on youtube, he doesn't understand what the big deal is. Of course he doesn't like the fact that everyone has seen it, including his grandma, but still he's put in time out. He needs to stay away from the spotlights for a while, so going back home and helping the locals seems to be the best plan. Brett is the town's golden boy and everyone is asking him for favors, and he gladly helps. Though honestly at times it seemed to me that people were taking advantage of him.
When these two meets there is that obvious attraction, but Josephina isn't easily swayed, not anymore. Still when Brett really turns up the charm a.k.a. he's now her new contractor, it makes it really difficult to resist him. Every woman loves a guy who's good with his hands. So sparks fly everywhere, the town is constantly in everyone's business, adding so much drama, plenty of humor and some very hot scenes. All in all a great quirky romance novel, perfect to escape reality.
Sugar Georgia - Reading order and purchase links
Marina Adair is a National bestselling author of romance novels. Along with the St. Helena Vineyard series, she is also the author of Tucker's Crossing, part of the Sweet Plains series. She currently lives in a hundred-year-old log cabin, nestled in the majestic redwoods of the Santa Cruz Mountains, with her husband and daughter.
As a writer, Marina is devoted to giving her readers contemporary romance where the towns are small, the personalities large, and the romance explosive.