SHE KNOWS BETTER THAN TO SAY "I DO"

After a humiliating end to her engagement, investment banker Sidney Sinclair is done with commitment-phobic men. But when her sister winds up engaged after a whirlwind courtship, she's thrown in to close contact with exactly the kind of sexy playboy she wants to avoid—the gorgeous best man. She's stuck with him, for better or worse, until her sister walks down the aisle, but that doesn't mean she has to give in to his smooth advances, no matter how tempting they are…

BUT HE MAKES IT HARD TO SAY "I DON'T"

Special Agent Vaughn Roberts always gets his man on the job and his woman in bed. So Sidney's refusal to fall for his charms only makes him more determined to win over the cool and confident redhead. Only what starts out as a battle of wills ends up as a serious play for her heart. Because the one woman who refuses to be caught may be the only one Vaughn can't live without…
Julie James delivers one book each year and she is well worth the wait. It Happened One Wedding is another hit. I don't know how she does it, but I love all her books. Seriously each and every one of them I've rated five stars. Not once has she disappointed me. Each time she simply me drags me into this FBI/US Attorney world and I always feel sad when I have to leave again.
It Happened One Wedding was a bit different than the other books, which you can also see by the covers. There is still an FBI agent, but no US attorney in this one. We've met Vaughn in the previous books (though it's not necessary to read those first) and I liked him. He brought some humor to the stories, always teasing his colleagues. He is a fine agent and you can take that any way you want.
Sidney is an investment banker and she has recently moved back to Chicago, to leave a certain past behind her and to be closer to her sister again. When said sister announces her engagement and Sidney finds out who the best man is, things start getting interesting. Seriously that first chapter sets the tone for the rest of the book and I loved it. There is so much banter between Vaughn and Sidney it made me all giggly and I could not stop smiling. You know sarcasm is my second language and Julie James translates this perfectly on paper.
Vaughn isn't ready to settle down. He can understand why some people do it, he just hasn't felt the need so far in his life. Also he isn't used to being turned down. So when things start heating up between him and Sidney and she turns him down, he's not prepared for that. The attraction between them is undeniable, but Sidney isn't looking for someone like Vaughn. She was already engaged to someone like that, what she wants now is someone steady, someone wanting to settle down.
The chemistry between these two is of the charts. All that bantering, the humor, the smexy scenes and I just couldn't get enough. The attraction is there, now the rest just needs to follow and they take their precious time. Which to me was excellent, because this meant just more to read. I can not recommend her books enough. Julie writes strong, independent, smart, witty yet approachable heroine meets handsome, smart, confident, determined hero like no other. It never gets boring, it is always something different. The attention to detail in the backstory is astounding and making it so much more than a fluffy read.
Julie James is my drop-everything-I'm-doing-right-now-and-start-reading author.
FBI/US Attorney - Reading order and purchase links
*All novels can be read as a standalone*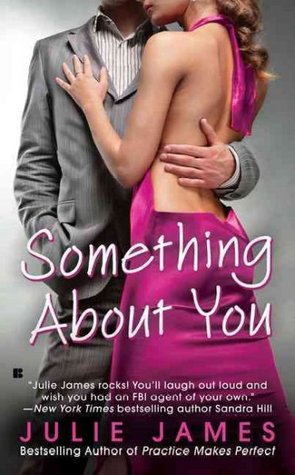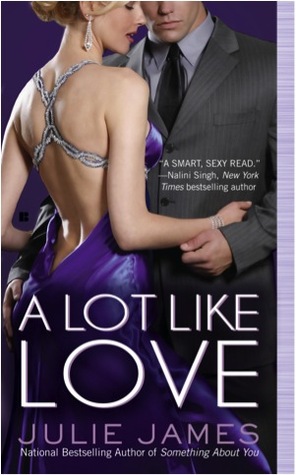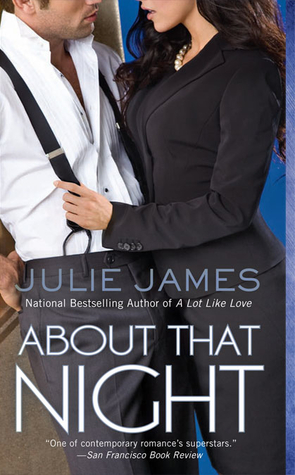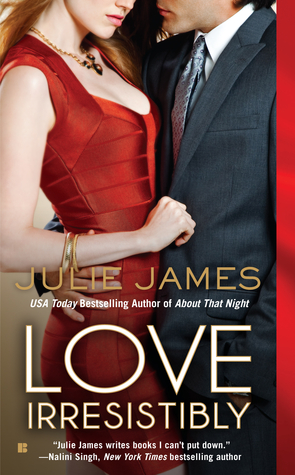 New York Times bestselling author Julie James practiced law with one of the nation's largest firms for several years until she began writing screenplays. After Hollywood producers optioned two of her scripts, she decided to leave the practice of law to write full-time. Her books have been translated into sixteen languages and Julie's new novel, IT HAPPENED ONE WEDDING, hits bookstores on May 6.
Julie James lives with her husband and two children in Chicago, where she is working on her next novel.