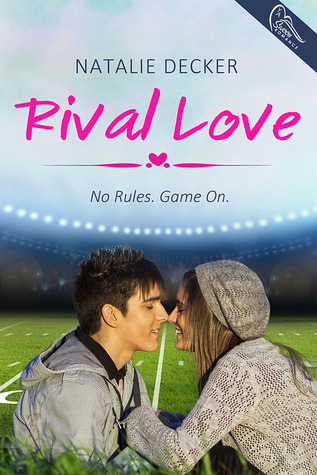 Skylar Fletcher is a proud Harris Academy Bulldog! She has everything she's ever wanted: a perfect boyfriend, great friends, and her dream college waiting for her in the fall. But nothing lasts forever. Skylar's world shatters when her mom decides it is time to move and drags Skylar, kicking and screaming, into Bobcat territory.

At Delmont High School, home of the Bobcats, Skylar has no friends and is often bullied. To make matters worse, her home life sucks thanks to all-star quarterback Caleb Morgan, nephew of her mom's live-in boyfriend.

At first Skylar and Caleb want nothing to do with one another. But they soon discover they're not that different after all--and each is harboring a secret attraction to the other. But can a Bulldog and a Bobcat ever really be more than friends? And are Skylar and Caleb willing to risk everything to find out? Rival Love is a debut young adult contemporary romance from Natalie Decker.
I can understand some healthy rivalry between sport teams or even schools, but this just takes it too a whole other level. TP'ing someone's house is about as friendly as these people get. It's pretty absurd.
When Skylar and her mom move to the other side of town, it means Skylar will no longer be a Bulldog. She's now in Bobcat territory, behind enemy lines. Which basically means that her life is over. Her friends and boyfriend have dumped her, no longer wanting to be associated with her and at her new school everyone hates Skylar because she's still a "Bulldog" in their eyes. Senior year was supposed to be great, but now not so much. The worst part is she can no longer be part of the swim and softball team, because it would mean betraying her old schoolmates and the new ones don't even want Skylar on their team.
Moving means Skylar is now sharing a house with Caleb, the Bobcat's star quarterback. Having Skylar enter his life really just complicates matters. No one is allowed to find out he's living with the enemy.
While they very much start of as enemies, you quickly realize they are both not bad people. But they are teenagers, so that means drama plays a huge part of their lives. Though there are plenty of moments where they are nice too each other. They just need time, but when feelings start to grow, they refuse to give into it. Falling for the enemy is the ultimate betrayal.
Honestly the whole rival thing went a bit overboard for me. Skylar's life turn into hell and her friends dump her like that. It's horrible and I had trouble coming to terms with that kind of behaviour. The girl didn't choose to move, though it certainly doesn't help that she holds on to her old school so hard.
Things between Skylar and Caleb develop slowly, though the way they behave about it is typical for teenagers. They go from hatred and loathing to reluctant acceptance that something might be going on, to falling hard. The story mainly focuses on the relationship between Skylar and Caleb, and the rivalry without going into too much detail about that. So it's more talk about the fact that there is a rivalry and some of the general consequences for Skylar.
The ending took me by surprise, as in I can not believe there is going to be a second book. To me this is the type of story that needs only one book, longer is only dragging things out. So that was a bit disappointing. Other than that this was a fun book. Both the main characters are very likeable and typical teenagers. The development between Caleb and Skylar was interesting to see from the dual point of view.
Natalie Decker is the Author of Rival Love. She loves oceans, sunsets, sand between her toes, and carefree days. Her imagination is always going, which some find odd. But she believes in seeing the world in a different light at all times. Her first passion for writing started at age twelve when she had to write a poem for English class. However, seventh grade wasn't her favorite time and books were her source of comfort. She took all college prep classes in High school, and attended the University of Akron. Although she studied Mathematics she never lost her passion for writing or her comfort in books. She's a mean cook in the kitchen, loves her family and friends and her awesome dog infinity times infinity. If she's not writing, reading, traveling, hanging out with her family and friends, then she's off having an adventure. Because Natalie believes in a saying: Your life is your own journey, so make it amazing!