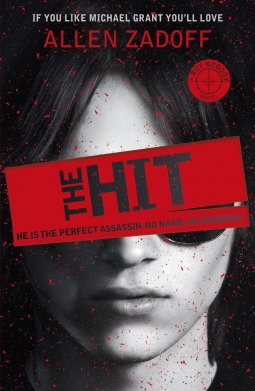 Boy Nobody is the perennial new kid in school, the one few notice and nobody thinks much about. He shows up in a new high school, in a new town, under a new name, makes few friends and doesn't stay long. Just long enough for someone in his new friend's family to die -- of "natural causes." Mission accomplished, Boy Nobody disappears, and moves on to the next target.

When his own parents died of not-so-natural causes at the age of eleven, Boy Nobody found himself under the control of The Program, a shadowy government organization that uses brainwashed kids as counter-espionage operatives. But somewhere, deep inside Boy Nobody, is somebody: the boy he once was, the boy who wants normal things (like a real home, his parents back), a boy who wants out. And he just might want those things badly enough to sabotage The Program's next mission.
Zach is no ordinary teenager, he's a hitman. Trained to infiltrate other teenagers' lives, kill someone close to them and disappear without a trace. He's been doing this for two years now and starts to wonder when it will end.
With his latest mission things don't quite go the way they usually do. He only has five days to complete the kill, there are people following him and there's this girl who complicates it all.
We get to follow this boy on his latest mission and once in a while we get these flashbacks to see how he came to be this boy. It has a certain dark edge on it all.
This boy's tale is very interesting. There were moments I really felt for him. Because of his work he never gets to make real friends, never getting emotionally involved and every move he makes is a calculated one. This all seems very exhausting to me, but he doesn't have a choice.
The setup of this story is very unique and refreshing. Therefor there were a lot of surprising twists in the story. You were constantly questioning everything and everyone. I never really knew what to expect and the ending definitely took me by surprise.
Allen Zadoff has created a fascinating character. Because of his job, you never get to know the real Zach, a couple of glimpses at max. Which of course is the point as he is boy nobody. He becomes whomever he needs to be. There is going to be two more books and I will certainly be reading those as well. I just want to know more about this boy and his missions are interesting to read about. Some find the missions a bit too political, but to me that just adds depth to the story and I like the intrigue.
The Unknown Assassin - Reading order and purchase links
The book was previously published as I Am The Weapon/Boy Nobody and I Am The Mission. These new editions will be published in September.
Allen Zadoff is the author of the new thriller series, The Unknown Assassin which earned starred reviews and has been optioned for a feature film by Sony Pictures and Will Smith's Overbrook Entertainment. His YA novel, Food, Girls, and Other Things I Can't Have won the Sid Fleischman Humor Award and was a YALSA selection for Most Popular Paperbacks of 2012. His second novel was My Life, the Theater, and Other Tragedies, the story of a techie hiding from life after a family tragedy. His third novel Since You Left Me is set in Los Angeles and tells the story of a religious school student who doesn't believe. He also wrote the memoir for adults, Hungry:Lessons Learned on the Journey from Fat to Thin.
Allen is a graduate of Cornell University and the Harvard University Institute for Advanced Theatre Training.