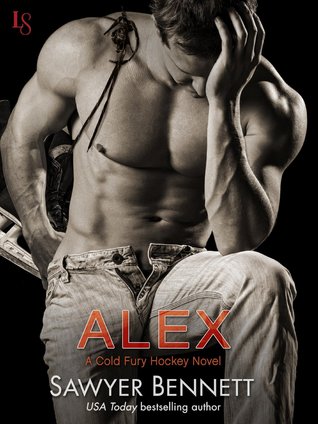 Hockey star Alexander Crossman has a reputation as a cold-hearted player on and off the rink. Pushed into the sport by an alcoholic father, Alex isn't afraid to give fans the proverbial middle finger, relishing his role as the MVP they love to hate. Management, however, isn't so amused. Now Alex has a choice: fix his public image through community service or ride the bench. But Alex refuses to be molded into the Carolina Cold Fury poster boy . . . not even by a tempting redhead with killer curves.

As a social worker, Sutton Price is accustomed to difficult people—like Alex, who's been assigned to help her create a drug-abuse awareness program for at-risk youth as part of the team's effort to clean up his image. What she doesn't expect is the arrogant smirk from his perfect lips to stir her most heated fantasies. But Sutton isn't one to cross professional boundaries—and besides, Alex doesn't do relationships . . . or does he? The more she sees behind Alex's bad-boy façade, the more Sutton craves the man she uncovers.
Alex is a jackass. He's one of the best players in the NFL, but has a certain attitude and arrogance about him, that rubs everyone in the wrong. The guy is good, though he actually hates the game. Since it's the only he knows how to do, he won't quit it. Now management has had it with him and orders him to work for a good cause. Alex actually isn't against doing that, he just hates the fact that he's ordered to do it.
Still he knows what's at stake, so he'll put in time, but poor whoever he will have to work with because he's ready to show his worst side. What he didn't expect was Sutton Prince. A social worker with a mission to save as many kids as she can. She herself has had a difficult past, but got out of it and this is her way of helping others like her. Sutton knows nothing about hockey, so mister mighty highly doesn't really faze her with his attitude. She deals with teenagers on a daily basis, she's comes across much worse than what Alex is dishing out.
Sutton gets under Alex' skin.They start spending a lot of time together, even besides work and Sutton learns that Alex is not so bad as he wants everyone to belief. To me that change form asshole to sweet guy, was a bit too sudden. It was like the guy had an epiphany and his attitude changed from one day to the next day. Though I can not deny that when Alex brings his A-game, the positive part, it's pretty impossible to resist.
Honestly it's mostly Sutton that makes him want to be a better man. Alex has some daddy issues, well founded and pretty horrible actually. Being with Sutton slowly makes him fall in love with the game again and makes him open up to some of his teammates. All is going pretty well, until that past shows up again. Alex is very much stuck in the past and he needs to let that go before it will destroy him for good.
Sutton was a very pleasant character. I loved how positive she was all the time. There was a certain goofiness about her that was endearing and a certain innocence around her that definitely drew Alex' attention. When Alex was not being a jackass, he was actually pretty great. Therefor I had a bit of trouble connecting with him in the beginning and I wasn't easily convinced of his change in attitude. Still when he's around Sutton, he's almost a different guy and I could see the appeal.
Overall a fun and heartwarming hockey story. It was well written, had certain depth thanks to both of the main characters' past and some nice humor. I am not completely sold on the series yet, as this was a good story, but it didn't feel really special to me. Meaning it doesn't stand out, but hockey book fans will definitely be into it.
Cold Fury Hockey - Reading order and purchase links
USA Today Best-Selling Author, Sawyer Bennett is a snarky southern woman and reformed trial lawyer who decided to finally start putting on paper all of the stories that were floating in her head. Her husband works for a Fortune 100 company which lets him fly all over the world while she stays at home with their daughter and three big, furry dogs who hog the bed. Sawyer would like to report she doesn't have many weaknesses but can be bribed with a nominal amount of milk chocolate.
Sawyer is the author of several contemporary romances including the popular Off Series, the Legal Affairs Series and the Last Call Series.