Shannon MacLeod has always gone for the wrong type of man. After she drifted from one toxic relationship to the next, her last boyfriend gave her a wakeup call in the worst possible way. With her world shattered, she's sworn off men—especially those of the bad-boy variety.

Cole Walker is exactly the sort that Shannon wants to avoid—gorgeous, tattooed, charming, and cocky. But his rough exterior hides a good man who's ready to find "the one." He's determined to pull Shannon from her self-imposed solitude and win her heart.

As Shannon opens up in the face of Cole's steady devotion, the passion between them ignites to blazing levels. But when Shannon's past comes back to haunt her, her fears may destroy the trust Cole has built between them—and tear them apart for good…
I have had a little crush on Cole Walker since he first appeared in Down London Road. We saw him going from this shy and a bit troubled teenager, to a young nice man with good values and a bit of a romantic streak. This book was one of my most anticipated this year. I've been so curious about him and wondering what type of girl could bring a great guy like that to his knees and I'm very happy with how it all turned out.
Now we all know Cole is a good guy, but if you don't know him, his size and tattoos might give you the wrong impression. That is exactly what happens when Shannon first sees him. Having the tendency to fall for the worst guys ever, she's so over the whole bad boy thing. Little does she know, she couldn't be more wrong about Cole. Shannon is actually afraid of her attraction to him, in the beginning, though slowly Cole is able to get behind her armor and show her that it could all be very good.
I really love how Samantha Young's plots are build up. First there is that obvious attraction, where someone is always trying to hold back a bit, though you know they're going to cave in sooner or later. This time we also get to see a big part of where things are going right between Cole and Shannon, on a emotional and certainly on a physical level. There is of course still some doubt and earning Shannon's trust takes time. Just when you think, this is pretty perfect, that past comes back. Shannon will need to make the choice of letting go of the wrong thing and we all know I am not talking about Cole here.
Seriously can a guy be any more perfect? My little crush has blown up in my face and I'm full on in love with this guy. My new book boyfriend for real. He's sweet, tough, protective, hot, charming, tall, has tattoos and I could go on for days. I'm not saying he doesn't have any flaws, because he also has some trust issues and forgiveness doesn't come easy for him. Shannon was not prepared for the full effect that is Cole Walker and resistance was futile.
Shannon is pretty great as well. While Cole had his trouble with his mother, he did have a big family of friends that love him and support him. She didn't have this. The only one who really connected with her is her brother Logan and he's in trouble because of her. So she's now starting over in Edinburgh and is actually making new friends and living a good life.Still getting to that point is definitely not easy for her and there is that kind of survivor guilt that keeps her from giving it her all. Slowly though Cole is able to get her to see things differently and make her realize she might be worthy of it all. One more thing, I'm seriously crazy jealous of her hair and it isn't even real.
Echoes of Scotland Street was another amazing addition to the On Dublin Street series. All these characters are so wonderful and you can not stop yourself from falling in love with this bunch. I know it isn't 'real' real, but that family feeling they have going on, just pours from the pages, making you wish you were part of it. For the fans of the series, we get some peeks into the lives of all the other characters as well. Think lots and lots of kids. It's clear that they play their favorite sport in the bedroom. I'm really hoping this isn't the last book in the series, because I'm just in no way done with all these characters.
On Dublin Street - reading order and purchase links
*All books can be read as a standalone, except Until Fountain Bridge and Castle Hill.*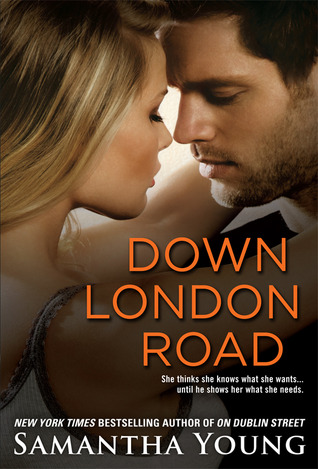 Samantha Young is a New York Times, USA Today and Wall Street Journal bestselling author from Stirlingshire, Scotland. She's been nominated for the Goodreads Choice Award 2012 for Best Author and Best Romance for her international bestseller ON DUBLIN STREET. ON DUBLIN STREET is Samantha's first adult contemporary romance and has sold in twenty-five countries.
Connect with Samantha Young: