How hard is it to come up with a unique vampire story in a saturated field market?
Vampires are vampires. Their long-storied existence in our imaginations has spun different concepts about them. A few things remain unchanged though. They drink blood, either humans or animals. They have fangs. They are dark, foreboding creatures that lurk in the dark.
With those basic elements in mind, it was easy enough to begin spinning a tale. The difficult part came with creating a believable scenario, something the readers would accept and hopefully, embrace.
The Gates Legacy series is all about vampires. The first installment, Hunted, is about Harrow, a human turned vampire. After his transition, he unknowingly spread a disease that ravaged the vampire community. This set the stage for the vampire authorities to hunt him down.
Considering the fact that vampires have been rewritten in many ways, and the similarities this story may have with what is out there already, I had to make sure that the plot is unlike any other. I also added a martial arts concept that is relatively unknown to non-practitioners or their followers. I introduced the art of Kali-Eskrima—fighting with sticks.
However, since my vampires are sturdy, a stake to the heart or a massive amount of garlic won't do the trick. I created a weapon based on Arnis. I called it Kalimetal, a unique and interesting metal weapon, one that is guaranteed to incapacitate, if not kill them.
Since most of the characters were once human, I try to draw out their long-forgotten humanity. It makes them real and adds more layers to their conflicted nature.
Hunted is followed by Tormented. While this installment features another main character, Tor Burns, the story focuses on the continued struggle of evading and finding the cure for the disease.
You'll have to experience Hunted and Tormented to know what I'm talking about. Vampires or action sequences might not be for everyone, but I'm sure an intermingled romantic element will certainly be hard to resist.
Deep in the heart of New York City's netherworld, a horrible disease is ravaging the vampire community. The Vampire Council is on a crusade to obliterate those infected, and Harrow Gates is target Number One. The unwitting source of the plague, he suffers from the same nightmarish symptoms as his victims. The world he'd been thrust into was cold, cruel, and intent on eradicating him, and the legions of afflicted vampires he created with his bite.

A bounty hanging over his head, satisfying his hunger has become an enormous challenge for Harrow. The less he feeds, the more hideous and painful his lesions become. Constantly running for his life and learning new tricks to survive, Harrow is in no position to refuse when Pritchard Tack offers him a unique opportunity. Pritchard not only gives Harrow a new beginning, but also a purpose and a chance to rectify the chaos he created in the vampire world. However, the multibillionaire has an agenda of his own.
Jordan is a reluctant new vampire and a woman on a mission. After the demise of her family and her own transformation at the hands of Goran, the ruthless leader of the Vampire Council, her only focus is revenge.
Constantly faced with one frustrating dead-end after another, a stroke of luck leads her to an underground facility that she suspects is the lair of the monster for whom she is looking.

Upon learning more about the truth behind the secret bunker, Jordan must fight against her growing feelings of friendship and concern for the facility's inhabitants. One man in particular threatens to pull her heart away from her sworn mission. There is something behind Harrow's dark lenses that unsettles the hardened female. Once again, she trembles and hungers for something other than red-stained revenge. Is love strong enough to override her hate-fueled thirst for vengeance?
The surprise attack rendered Harrow helpless on the ground with his arm locked to the joint, her knee resting on his neck in a chokehold.
"Who are you, and what are you doing here?" Jordan roared, her amber eyes blazing with unspoken fury. Harrow gritted his teeth as he tried to break from her hold. She was strong, he had to give her that, and she'd had the element of surprise on her side. Harrow felt his breath sputter when she pressed her knees harder. He wouldn't dare strike a woman, but desperate situations called for extreme measures, so he did something he thought might work.
Mustering enough power despite the choking sensation spreading across his body, he moved his hand fast before she could react, and the ball of his palm smacked her right across her forehead in between her eyes. The loud crackle of bone meeting bone resonated in the room, and Jordan stumbled back, her knee releasing Harrow's neck. With a quick acrobatic move, Harrow jumped to his feet. Jordan recovered at once and poised herself to attack.
They faced off, lips curling back to expose their fangs and their growls reverberating in the small room. They circled, moving from side to side, sizing each other up.
"You're a lousy people-person," Harrow said.
He inclined his head to get a better look at her. Eyes fixed on her, he absorbed all that he could as waves of anger rolled off her. She was a few inches shorter than he was, a tall woman with her flaming-red hair tied in a ponytail. Her amber eyes were blistering with fury as she glared at him, not hiding her distaste for his sudden appearance. She was stunning, with her soft features, freckles dusting her face, her small mouth, and full lips that peeled back to expose her fangs and perfect white teeth.
The Gates Legacy - Reading order and buy links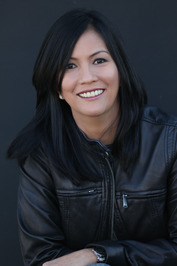 Lorenz Font discovered her love of writing after reading a celebrated novel that inspired one idea after another. She is currently enjoying the buzz from her vampire novels Hunted and Tormented, the first and second book of The Gates Legacy series, Indivisible Line, a romantic thriller, Feather Light, an erotic romance and Pieces of Broken Time, a military romance.
Lorenz is excited about the re-release of Hunted and Tormented on November 20, 2014. Ascension, book 3, of The Gates Legacy series in 2015, with book 4, soon to follow.
Lorenz's perfect day consists of writing and lounging on her garage couch, aka the office, with a glass of her favorite cabernet while listening to her ever-growing music collection. She enjoys dabbling in different genres, with an intense focus on angst and the redemption of flawed characters. Her fascination with romantic twists is a mainstay in all her stories.
Lorenz lives in California with her husband, children, and two demanding dogs. She divides her time between her full-time job and her busy writing schedule.
Connect with Lorenz Font:
Click here or on the image to go to the rafflecopter