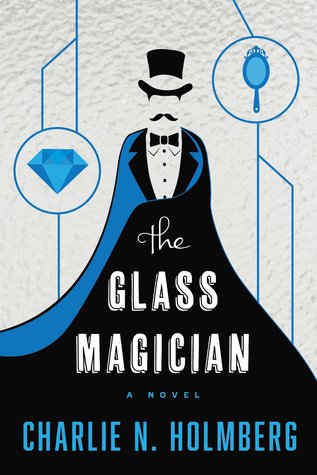 Three months after returning Magician Emery Thane's heart to his body, Ceony Twill is well on her way to becoming a Folder. Unfortunately, not all of Ceony's thoughts have been focused on paper magic. Though she was promised romance by a fortuity box, Ceony still hasn't broken the teacher-student barrier with Emery, despite their growing closeness.

When a magician with a penchant for revenge believes that Ceony possesses a secret, he vows to discover it…even if it tears apart the very fabric of their magical world. After a series of attacks target Ceony and catch those she holds most dear in the crossfire, Ceony knows she must find the true limits of her powers…and keep her knowledge from falling into wayward hands.

The delightful sequel to Charlie N. Holmberg's The Paper Magician, The Glass Magician will charm readers young and old alike.
*I received a copy through NetGalley in exchange for an honest review*
Do not read if you haven't read the previous book
This book picks up a couple of months after the Paper Magician. Life has gone back to normal for Ceony and Thane, though there seems to be a lot of unspoken tension between them. They never really addressed what she said in his heart, and her feelings for him keep growing. Once in a while Ceony might believe he feels the same, but patience is a virtue and all that, so she will just have to wait.
Their quiet life gets interrupted though, when more old enemies show up. Though it seems that this time they're after Ceony. That girls doesn't know when to back down though, and faces them head on. She really is a bit of trouble. Unbelievably book smart, but she doesn't always thinks things through or about the consequences of her actions.
Let's just say she somehow always lands into hot water. This to me shows that she still has some growing up to do before she can become a full magician or things between her and Thane to become serious.
A great second book and I really love this world. We get to explore it even further when new magic and characters get introduced. You also get a better understanding of Ceony's personality, and even Thane's feelings about her. It's a good mix of romance, non traditional magic and adventure. I am very curious at what more trouble Ceony can get herself into the next time.
3.5
The Paper Magician Trilogy - Reading order and purchase links
Born in Salt Lake City, Charlie was raised a Trekkie alongside three sisters who also have boy names. In addition to writing fantasy novels, she is also a freelance editor. She graduated from BYU, plays the ukulele, owns too many pairs of glasses, and hopes to one day own a dog. She currently lives with her family in Utah.