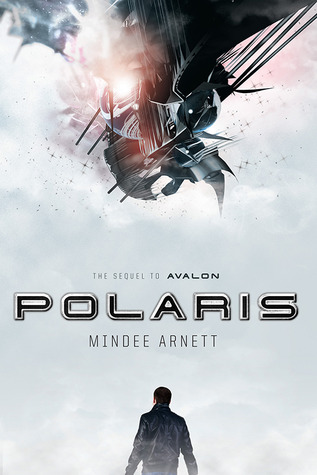 Jeth Seagrave and his crew of mercenaries are pulled into one last high-stakes mission in this breathtaking sequel to Mindee Arnett's fascinating and fast-paced sci-fi thriller Avalon.

Jeth Seagrave and his crew are on the run. The ITA, still holding Jeth's mother in a remote research lab, is now intent on acquiring the metatech secrets Jeth's sister Cora carries inside her DNA, and Jeth is desperate to find the resources he needs to rescue his mother and start a new life outside the Confederation. But the ITA is just as desperate, and Jeth soon finds himself pursued by a mysterious figure hell-bent on capturing him and his crew—dead or alive.

With nowhere to run and only one play left, Jeth enters into a bargain with the last person he ever thought he'd see again: Daxton Price, the galaxy's newest and most fearsome crime lord. Dax promises to help Jeth, but his help will only come at a price—a price that could mean sacrificing everything Jeth has fought for until now.

The conclusion to the story Mindee Arnett began in her acclaimed novel Avalon, Polaris is a dangerous journey into the spaces between power and corruption, life and death, the parts of ourselves we leave behind, and the parts we struggle to hold on to.
Polaris picks up a couple of months after Avalon. Jeth and his crew are still on the run from the ITA, making it difficult for them to gather resources to save his mother. When the ITA ups the stakes and becomes more obstinate in their pursuit, things aren't looking well for them. The only option left is Dax. Hoping he would never ever have to deal with him again, but desperate times calls for desperate measures.
While the end stakes of this adventure are higher, the tension felt less to me. Even though some people might not make it out alive. There is more of a lull between the action scenes, which is probably what gave me that feeling. Still I really liked how everything progressed, a lot of unexpected twists and turns, that I honestly didn't see coming.
The romance still takes a backseat in this one, but I liked it. Things are good between Jeth and Sierra, and while you get to see some normal routines of them, their relationship was never an issue or brought on any big drama. They had bigger things to worry about. With the focus on the mission and the trouble they encounter along the way, there is plenty of drama coming from that.
The Pyreans seem to be an interesting case, and I would like to have seen more of them. That's why the ending feels so open to. There could easily be a third book, but it isn't necessary. Now you get to fill it in anyway you want. I guess I'm just someone who likes a bit more closure.
Excellent second book in this series. I don't get to read that much well written and captivating science fiction novels, so stories like these are a treat for my inner geek.
3.5
Avalon - Reading order and purchase links
Mindee Arnett lives on a horse farm in Ohio with her husband, two kids, a couple of dogs, and an inappropriate number of cats. She's addicted to jumping horses and telling tales of magic, the macabre, and outer space. She has far more dreams than nightmares.