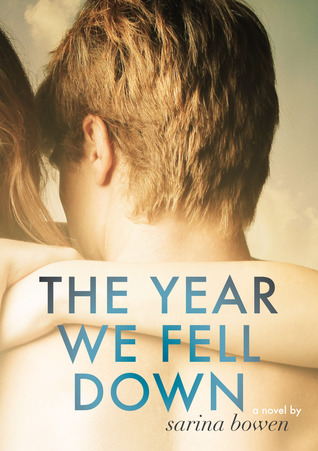 The sport she loves is out of reach. The boy she loves has someone else.

What now?

She expected to start Harkness College as a varsity ice hockey player. But a serious accident means that Corey Callahan will start school in a wheelchair instead.

Across the hall, in the other handicapped-accessible dorm room, lives the too-delicious-to-be real Adam Hartley, another would-be hockey star with his leg broken in two places. He's way out of Corey's league.

Also, he's taken.

Nevertheless, an unlikely alliance blooms between Corey and Hartley in the "gimp ghetto" of McHerrin Hall. Over tequila, perilously balanced dining hall trays, and video games, the two cope with disappointments that nobody else understands.
They're just friends, of course, until one night when things fall apart. Or fall together. All Corey knows is that she's falling. Hard.

But will Hartley set aside his trophy girl to love someone as broken as Corey? If he won't, she will need to find the courage to make a life for herself at Harkness — one which does not revolve around the sport she can no longer play, or the brown-eyed boy who's afraid to love her back.
What an awesome no bullshit story. I've been a bit in a book slump with my Saturday Series (two DNF in a row), and this was just the one to take me out of it. The story almost starts off like fate. Corey lost her ability to walk in a hockey accident, but when starting college her neighbour is the hot star player. Though he also currently has a walking problem due to a drunk accident. They are by the way perfect for each other. Both love hockey, there is this obvious connection between them, they're joking all the time, it's all so very relaxed. The only problem is that Hartley has a girlfriend, but let's call that a minor glitch.
Corey never thought that after the accident life could be so normal and fun again. With the help of Hartley and her roommate, she gets the full college experience. She's still adjusting somewhat, and is slowly learning that her disability doesn't mean she can't live a full life.
I loved to see Corey's journey through her first year of college. Besides the thing with Hartley, it's very much focused on her self discovery. How she slowly gets to enjoy life and love again. It was done in such a realistic, matter of fact way that I just love.
Both main characters were very loveable and easy to relate to. Even though Hartley has a girlfriend he never comes off as a jerk or a player. He's a solid guy, who just needs some time to figure certain things out.
Corey and Hartley are hockey players, but it's not really present in the story as they currently can not play. For Corey it's more about the miss of not being able to play and Hartley just needs to heal. Though I liked the way the author handled the subject of Corey no longer being able to play, how she copes with it and kind of moves on from it in another direction.
Overall a great first book. I'm already fan of this series after finishing this one and I can not wait to read more.
The Ivy Years - Reading order and purchase links
Sarina Bowen writes steamy, angsty Contemporary Romance and New Adult fiction from the wilds of Vermont.
She is the author of The Ivy Years, an award-winning series set amid the hockey team at an elite Connecticut college.
Also, the Gravity series.
Sarina enjoys skiing, espresso drinks and the occasional margarita. She lives with her family, eight chickens and more ski gear and hockey equipment than seems necessary.