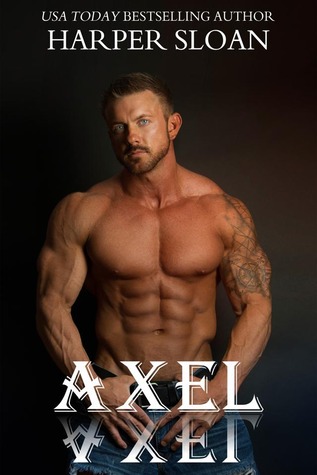 Fate hasn't always been friends with Isabelle West. In fact, fate has been a downright bitch.

Isabelle has learned the hard way how hard life can be when fate isn't by your side. It can hand you dreams on silver platters, but it can snatch them right back and hand you nightmares. One thing Isabelle knew for sure fate was consistent with was taking away everything she ever loved.
For the last two years Isabelle has been slowly clearing the clouds of her past. Happiness is finally on the horizon. She has a thriving business, great friends, and her life back. All she has to do is jump over the last hurdle…her ex-husband.

When problems start causing her to fear her new life, and memories that are better left forgotten start rushing to the surface the last thing she needs is a ghost from her past to come knocking on her door.

Axel never thought he would look into the eyes of Isabelle West again, and he wasn't sure he wanted to now. He's carried his anger for so long he isn't sure he can just turn it off, but when he is faced with protecting her and an unexpected desire to have her again, life gets a little more complicated.

How will Axel and Isabelle deal when all their cards are put on the table and everything they thought was true blows up in their faces?
I'm having some mixed feelings about this story. On the one hand I'll probably read the rest of the series, because all these guys sound amazing. On the other hand I almost felt a bit disappointed with the way Axel turned out. It was definitely different than what I expected.

Isabelle's husband was not a good guy, but in the end she manages to escape from him. It's been two years since, and her life is slowly picking back up. She has some great friends that helped her through, and are always there for her. But when her ex-husband is causing some problems, her friends call in help. Who she never expected to see again was Axel.

I was kind of surprised how Isabelle handled the whole situation with Axel. Before she was more meek and compliant, but now she's full on angry. I liked that Axel was able to bring out more emotions from her, still her anger at times felt misplaced to me.

Axel also never expected to see Isabelle again. The last time he knew, she was happily married. In all those years he never stopped caring about her though, so now that she needs his help, he's there for her. As in, he takes over her life kind of, and leaves her no choice about it. While I certainly liked his possessive alpha male side, it didn't quite work in my mind, when he would all mushy around Isabelle. The guy is actually pretty romantic and has no problems talking about his feelings.

It's that whole contradiction in those characters that had me confused at times and made it more difficult for me to get really into it. Somehow it made the story less believable. So while the two main characters were kind of all over the place, the secondary characters were pretty great. We only get them to know a little, but I liked what I saw and that's probably why I'll be giving this series another shot.


2.5 stars
Corps Security - Reading order and purchase links
Harper is a NEW YORK TIMES, WALL STREET JOURNAL and USA TODAY bestselling author residing in Georgia with her husband and three daughters. She has a borderline unhealthy obsession with books, hibachi, tattoos and Game of Thrones. When she isn't writing you can almost always find her with a book in hand.