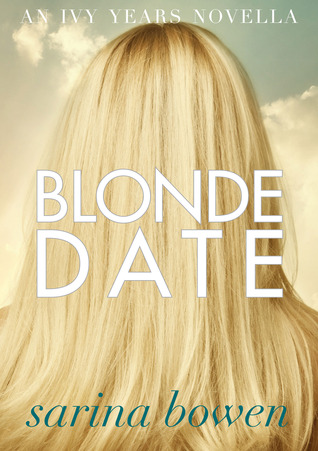 A blind date. A nervous sorority girl. A mean-spirited fraternity prank. What could possibly go wrong?

As a sorority pledge, there are commandments that Katie Vickery must live by. One: thou shalt not show up for the party without a date. Two: the guy shall be an athlete, preferably an upperclassman.

Unfortunately, Katie just broke up with her jerkface football player boyfriend. Even worse, her last encounter with him resulted in utter humiliation. She'd rather hide under the bed than attend a party where he'll be.
Yet staying home would mean letting him win.

Enjoying herself tonight was out of the question. She could only hope to get through the evening without her blind date noticing that he was spending the evening with a crazy person.

Andrew Baschnagel is living proof that nice guys don't finish first. He's had his eye on Katie since the moment her long legs waltzed into his art history class. So when her roommate sets Andy up to be Katie's date, he'd be crazy to say no. Unfortunately, he doesn't have a lot of practice with either girls or parties. Yet.
Blond Date is a fun extra in the series. We met Katie, Scarlet's roommate, and Andrew, Bridger's neighbour, in the previous book and well they were probably the two people most likely not to date. That changed though when Katie broke up with her jerk of a boyfriend, and was in desperate need for a date for an event. Hence her introduction to Andrew.
Andrew can not believe his luck when Scarlet sets him up with Katie. He considers her way out of his league and she's kind of his dream girl. It was adorable to see how nervous he was while getting ready for the date. Andrew knows he's not the type of guy that usually gets the amazing girls, simply because he's too nice and a bit of a geek. So he might be on the college basketball team, but honestly that's more about fun than actually winning.
We follow these two along on their date and it's a great one. I liked how we get to go inside both of their heads, and get to discover what amazing people they are. Andrew is total opposite of the type of guys Katie usually goes for, but he might just be what she needs. While Andrew discovers there is more than meets the eye when it comes to Katie.
A short and sexy read about opposites attract, that will have you begging for more.
The Ivy Years - Reading order and purchase links
Sarina Bowen writes steamy, angsty Contemporary Romance and New Adult fiction from the wilds of Vermont.
She is the author of The Ivy Years, an award-winning series set amid the hockey team at an elite Connecticut college.
Also, the Gravity series.
Sarina enjoys skiing, espresso drinks and the occasional margarita. She lives with her family, eight chickens and more ski gear and hockey equipment than seems necessary.