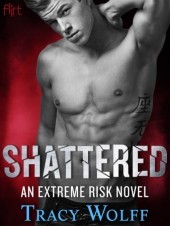 Ash Lewis has poured every last ounce of his blood, sweat, and tears into reaching the very top of the professional snowboarding world—until the unthinkable happens. After the biggest competition win of his career, Ash's mother and father are killed in a tragic accident. Unable to handle the idea of going back out on the snow to pursue the dream his parents shared with him, Ash feels that he has no choice but to walk away from snowboarding forever. Then he meets Tansy Hampton.

Wild, fun, and impulsive, Tansy has a different look and a new passion every week. As a cancer survivor who spent the past several years waiting to die, Tansy has a fresh perspective on life—even if she doesn't have a clue about what she actually wants to do with it. But she's determined to find out, and that means making the most of her time while she still can.

From the very beginning, their chemistry is intense. But while Ash can't stop chasing the ghosts of what can never be, Tansy stays firmly focused on the possibilities the world holds for her—and for them. She's already picked up the pieces of one shattered life. Now she's determined to help Ash do the same.
Shredded has been on my TBR list for a while, so when Shattered popped up on NetGalley I knew I had to put in a request. Luckily I got approved and finally got to meet these hot snowboarders. So I still haven't read the first novel, but they can easily be read as standalones. In the beginning we get a little recap of what happened to Ash's family and how it all spirals down from that.
The guy lost his parents in a car accident, that left his little brother paralyzed from the waist down. This accident happened when they were on their way to one of Ash's competitions. Ash's overall feeling is pretty much guilt. Guilt over his parents dying. Guilt over the fact that his brother is paralyzed and therefor will never get to live a 'normal' life. Somehow Ash feels the need to punish himself by refusing to board anymore. It's time to take on the responsibility and take care of his brother. Which means no longer endangering his own life and go through life numb. Let's just say he's not dealing well.
Now Tansy has waited half her life to die, knowing this is no longer the case, she seizes the opportunity to finally start living. Her optimism is infectious and I immediately felt drawn in thanks to her. For the last couple of years she has always been the 'cancer girl', now she gets to be whomever she wants as soon as she finds out who that is. So it's a time of experimenting and trying new things, finding herself. Having been inches away from death's door, she can not accept Ash's refusal to live.
When these two paths cross thanks to the Make A Wish foundation Tansy works for, things get pretty intense. Not necessarily the sexual part, though it's there as well. These two butt heads more often than not, keeping me very entertained. Slowly Ash needs to realize life isn't that bad and definitely worth living.
Shattered was such a wonderful read. Tansy is an amazing character, she definitely kept me going through the story. I also liked Ash, though I think I like the old Ash or the brand new Ash better. When he is all wallowing in guilt, he's not showing his best side. I could understand his hurt, but sometimes it felt a little selfish to me. He was so focused on that, that he almost forget about his brother as a person and not as a victim. That is certainly a nice development to watch out for.
I am curious about the next book, which I think will be about Cam and/or Luc. No idea if they will really end up together. Though honestly what would be really great is to read a novel about Logan, Ash's little brother. He definitely deserves his HEA.
Extreme Risk - Reading order and purchase links
All books except
can be read as
standalone novels
Tracy Wolff lives with four men, teaches writing to local college students and spends as much time as she can manage immersed in worlds of her own creation. Married to the alpha hero of her dreams for twelve years, she is the mother of three young sons who spend most of their time trying to make her as crazy as possible.