Every moment, every lifetime, every decision—including her choice to erase—has led Maryah to this.

Two outcomes are possible: an infinite happy-ever-after with her kindrily or the final severing of her relationship with Nathan.

Closer to the enemy than ever before, Maryah unravels the diabolical plan that Dedrick has been manipulating into place for centuries. Revelations, secrets, and lies surface faster than Maryah can process. She doesn't know who to trust, what to believe, or how to save her loved ones from the desolate future Dedrick is so close to executing.

Guided by an enigmatic raven-haired prisoner, Maryah fights body and soul to save Nathan, her kindrily, and countless others. But is her love strong enough to alter a prophecy written in the stars?
This series started of so strong, I absolutely loved the first one, but somewhere things went south for me. I always thought the whole Kindrily concept was fascinating and the possibilities endless, unfortunately to me things kind of stayed bland.
Maryah is finally able to focus her powers more and uses them to find out what Dedrick is planning. Those plans are of course very diabolic and it will take everything for Maryah and her kindrily to stop him. The way everything is intertwined and the reasons why Maryah erased are very well thought out. Miss Hooper is able to tie up everything very nicely, leaving me with no further questions.
The focus this time is definitely back on Maryah and this new character Rena. At first I was not sure what to make of her. She added some confusion, to keep you guessing all the way through the end. Rena is now one of my favourite characters in the series and I hope she and Dakota get their own story.
Once in a while we get to see things from Nathaniel's perspective, but they did not add that much more insight to me. I still think he is a great guy and his love for Maryah amazes me, though him and the rest of the kindrily kind of fall onto the background. They were so active in the previous novels and I missed them a bit in this final installment.
Overall Fighting For Infinity was a good story, but it could have been more. I am glad the way things happened and how all the mystery and intrigue gets resolved.
Kindrily - Reading order and purchase links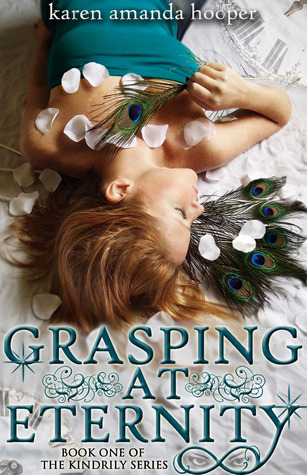 Born and bred in Baltimore, frolicked and froze in Colorado for a couple of years, and I'm currently sunning and splashing around Florida with my two beloved rescue dogs.
I'm addicted to coffee, chocolate, and complicated happily-ever-afters.
I am a constant work in progress.
A self-proclaimed twisted little pixie, I believe that magic and true love really do exist, even in a world that can be ugly at times. I like to dance down rabbit holes and ride shooting stars while playing a never-ending game of "Imagine If…" Then I write about my fantastical musings and call myself an author. I can't imagine doing anything else. I love storytelling way too much.
I've been making up stories for as long as I can remember. In high school I discovered my passion for putting my thoughts onto paper, but it wasn't until my late twenties that I wrote my first novel. Due to my strong Disney upbringing, I still believe in fairy tales and will forever sprinkle magic throughout all of my novels.