The New York Times bestselling author of On Dublin Street and Down London Road returns with a story about letting go of the past and learning to trust in the future…

When Hannah Nichols last saw Marco D'Alessandro, five long years ago, he broke her heart. The bad boy with a hidden sweet side was the only guy Hannah ever loved—and the only man she's ever been with. After one intense night of giving into temptation, Marco took off, leaving Scotland and Hannah behind. Shattered by the consequences of their night together, Hannah has never truly moved on.

Leaving Hannah was the biggest mistake of Marco's life, something he has deeply regretted for years. So when fate reunites them, he refuses to let her go without a fight. Determined to make her his, Marco pursues Hannah, reminding her of all the reasons they're meant to be together.…

But just when Marco thinks they're committed to a future together, Hannah makes a discovery that unearths the secret pain she's been hiding from him, a secret that could tear them apart before they have a real chance to start over again….
It seems that in the past two weeks I've gone from one book hangover to the next. There were so many good releases, books I needed to read immediately and most of them overwhelmed me with all these feelings. It always ends happy, but the struggle these characters sometimes have to go through are heartbreaking and since it is so well written, I have no other choice but to feel with them. In other words, I cried while reading Fall From India Place.
I fell in love with Hannah from the first moment she was introduced. This young teenage girl, who seemed smart beyond her age. We watched her struggle with her first crush a.k.a. Marco, but we never knew what really happened. I was therefore pleasantly surprised when we fast forward a couple of years and Hannah is now a young woman, starting to make her own life.
While the story is told, we sometimes get flashbacks to what happened so many years ago between her and Marco. These were really helpful, while also being one of the biggest reasons for so many of these overwhelming feelings. Most interesting I thought was that no one close to her, knew the full story. They all knew bits and when everything comes together they are not happy.
Hannah has changed a lot in those years since Marco has left. She has not just closed herself off from love, but also slowly from her family. While she is still not afraid to say her mind, she has become more careful. So when Marco shows up again, apologizing for what he did and wanting a second chance, Hannah is not jumping at the opportunity. It is not easy to open up again and when it seems they both have secrets they're keeping from each other, things only become more complicated.
While Hannah is one of my favourites, I have to be honest that Marco is not. In his heart he is a good guy, but he made some very bad mistakes when he was younger. Now that he is older and wiser, he wants forgiveness and I can fully understand why Hannah is so reluctant at first. It's all so difficult because they were so young and can you really keep holding that against him? That turmoil definitely felt very real and I was feeling those conflicted emotions, needing to remember that everyone deserves a second chance. That is what it is about. When you love someone and they've made a mistake, is it possible to forgive them and move on, letting that past behind you and start a real future together.
Samantha Young has once again done a superb job. I really love all these characters and you get to see a lot of them in this book. Cole deserves a special mention, because he is simply awesome. During the years he and Hannah have become best friends, almost brother and sister, they are so close. He also has changed a lot since we first met him and I'm so happy his book is going to be next. I am not so secretly hoping it will be told from his point of view. It's only a year waiting. What is one year anyway, right???
Any book that can get this kind of reactions from me deserves five stars. I really feel like I need to start mentally preparing myself before I start reading her books. One of the best things I love about books, are the characters. Strong, believable characters, that are easy to connect with are my thing. When the struggles they go through are real and you are there every step beside them hoping for that happy end, because they deserve it, they are worthy of a great love. Samantha Young certainly knows how do this and that's why her books are so amazing.
On Dublin Street - reading order and purchase links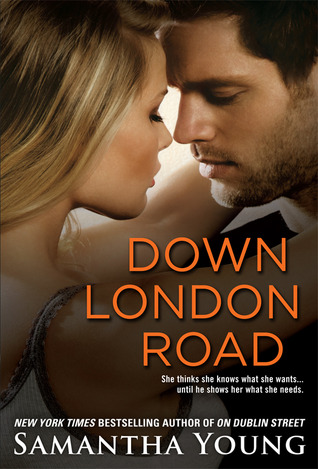 Samantha Young is a New York Times, USA Today and Wall Street Journal bestselling author from Stirlingshire, Scotland. She's been nominated for the Goodreads Choice Award 2012 for Best Author and Best Romance for her international bestseller ON DUBLIN STREET. ON DUBLIN STREET is Samantha's first adult contemporary romance and has sold in twenty-five countries.