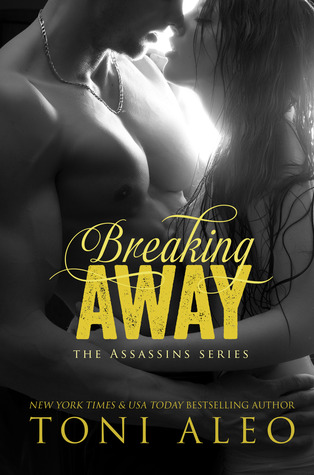 BREAKING AWAY is a story of loss, healing, and love… where unexpected turns and heartache lead to passion.

To Nashville Assassins' leading scoring center Phillip Anderson, playing hockey has always been easy… as natural as breathing. His life is no different. That's until his world is turned upside down by the death of his sister. While mourning his loss, Phillip has to find a way to make his very angry sixteen-year-old niece, Claire, happy. Now, as her guardian, he discovers the only thing that seems to heal her lonely heart is dance class. But what he didn't count on was the attraction he'd feel towards her drop-dead sexy dance teacher.

For Reese Allen, dancing has always been part of her soul. After having her heart broken in New York, she comes home with the determination to make her dance studio one of the best in Tennessee and succeeds. When she sees Claire dance for the first time, she knows the girl is bound for greatness and takes the troubled teen under her wing. Using dance as therapy, she suddenly finds herself bound to the young woman… and her hot-as-sin uncle.

However, Phillip and Reese are happy in their single lives. It's simple. They do what they want, who they want, and how they want, but from the moment they meet, the attraction is undeniable. Soon, they are more than willing to spend just one night tangled in the sheets. But, one night turns into two, and two turns into three, until they find themselves in a repeated dance of "One Last Time" that has the potential to be something more… if only Reese and Claire allow it.

Can Phillip find a way to thaw the hearts of both the women in his life, or will he be forever trying to break them away from their pasts?
I had some serious trouble rating this one, in the end I went with four stars because I liked Blue Lines more and I gave that 4.5 stars. Toni knows how to write a good story, that has been obvious and she has proven that with all her books. To me the characters in a book very much define how much I liked it. Now Phillip is amazing, I can barely believe he's the same guy we met before. It was Reese I had some troubles with.
Let me start from the beginning. Phillip, like many of his teammates, likes to have fun with women. Living life free is what he does best, but that all changes when his sister dies, leaving behind a very angry sixteen-year-old niece. Having Claire living with him is seriously cramping his style, though he doesn't mind. Right now all he wants is for things between him and his niece to be good, instead the few conversations they have usually ends up in shouting at each other. Things are just not good.
The only thing Claire currently cares about is dancing and luck behold in the extended Assassins family is one fine dance teacher Reese Allen. Dancing has become Claire's only solace and slowly things start to become better for everyone around. Though only when Phillip is not distracted by said dance teacher.
Dance is Reese's life. Having her own dance studio and teaching classes might not have been her original dream, but she loves it more than she had ever hoped. After she got her heart broken in New York, she left that dream of making it big and her heart behind. Fool me once, shame on you. Fool me twice, shame on me, seems to be her motto when it comes to men and love. She gave love a shot once and it didn't work out. So now she is not even going to try. People might think she's an ice queen, but Reese does it to protect her heart.
Phillip and Reese met before on one of the many Assassin gatherings, but seeing her dance and more particular in one of those dance outfits is what definitely drew his attention now. Things heat up between them really fast, but they are both clear that this is just a one time thing. Those quick scenes were the best, I could really picture them as a movie playing inside my head. So that one time, becomes two, three and so on. They figure they could make this work, as long as there are some rules. Reese does not do attachments and Phillip is in no state of mind right now for anything more than fun between the sheets or wherever they might do it.
A deal is struck and the dance begins. It quickly becomes obvious Phillip wants more though, but he doesn't say anything about it, scared it would push Reese away. Meanwhile Reese tries to keep her emotional distance from Phillip, but it's not that easy when you're faced with such a gorgeous and amazing man. I really liked this reverse role thing that was going on. Whenever Phillip even hints about something more, Reese takes three steps back and pushes him away.
I get that she is scared. Love is a scary thing, but it got quite frustrating to see how she was sabotaging her own happiness for the chance of getting hurt. If she ends it now it would hurt and if it ends in ten years it would also hurt. She doesn't see that it is possible to find happiness. Phillip had to prove himself over and over again. I really felt for him.
Like I said in one of my updates. Everything went so well and for a moment you even believe there doesn't need to be too much drama, but then nope they definitely get put through the wringer. I know that it's needed to make an interesting story and otherwise things just go to smoothly for them, but you can not help but hope.
Toni has once again written a great story. Hockey has become my favourite sports theme for books and I've never even seen a live game or on tv, so that is saying a lot. I really love all these Assassins characters. They are one big family and I love how they look out for each other or push them to take chances. It's so much fun to read about.
While Reese and Phillip are wonderful, they are not my favourite couple in this series. For me I was just able to connect better with some of the other characters, but that is a very personal opinion and this will be different for everyone. Now I liked how Reese opened up towards the end, like very end. She just took her time to get on the same page as everyone else. Phillip was the big surprise in this one. Seeing this softer side of him, with his niece, was adorable and a very big contrast with the "action" scenes between him and Reese. His tenacity is one of his best characteristics and what made sure he got his happy ending. I root for happy endings!
One more little thing. Ever since I've read Tangled In Laces (novella) and then there was this one bar scene with Karson in Breaking Away, all I've been able to think about is wanting to read Laces and Lace. The novella already brought tears to my eyes, so I know that a full length novel will give me a book hangover.
Assassins - Reading order and purchase links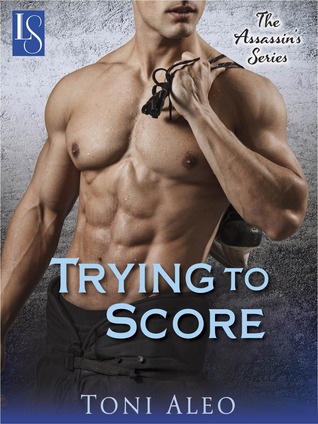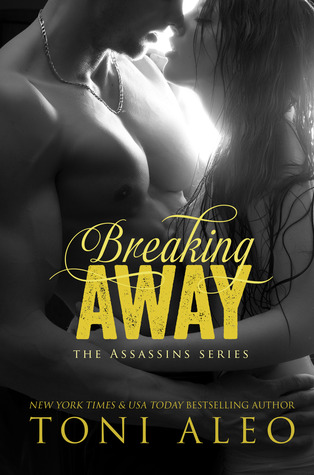 Toni Aleo is the author of the Nasvhille Assassins series: Taking Shots, Trying to Score, Empty Net, Falling for the Backup, and Blue Lines.
When not rooting for her beloved Nashville Predators, she's probably going to her husband's and son's hockey games and her daughter's dance competitions, taking pictures, scrapbooking, or reading the latest romance novel.
She lives in the Nashville area with her husband, two children, and a bulldog.
2 - Kindles (US ONLY)
- If international and win, you will automatically win a gift card in the amount of the kindle(s).
- The Complete series in paperback and signed. (US)
- The complete series in ebook format. (INT)
- 5 Swag Packs (US ONLY)