Assassin. Soldier. Arrow. That is who Vasic is, who he will always be. His soul drenched in blood, his conscience heavy with the weight of all he's done, he exists in the shadows, far from the hope his people can almost touch—if only they do not first drown in the murderous insanity of a lethal contagion. To stop the wave of death, Vasic must complete the simplest and most difficult mission of his life.

For if the Psy race is to survive, the empaths must wake…

Having rebuilt her life after medical "treatment" that violated her mind and sought to stifle her abilities, Ivy should have run from the black-clad Arrow with eyes of winter frost. But Ivy Jane has never done what she should. Now, she'll fight for her people, and for this Arrow who stands as her living shield, yet believes he is beyond redemption. But as the world turns to screaming crimson, even Ivy's fierce will may not be enough to save Vasic from the cold darkness…
After finishing this book I immediately wanted to reread the entire series, they are so good. The world Nalini Singh has created is fascinating and I get totally lost in it. The Psy race really piques my interest and the possibilities are endless, so it could go wherever you want it to go. I don't think I will ever get tired of them.
Thirteen books seem like a lot to read, before you should read this one, but it is necessary. If you don't have the buildup from the Psy world you'll get lost and it will be confusing. Don't worry though, as soon as you start reading, you will want to read all of them. This series is addicting.
In the previous books we've seen an Arrow fall in love i.e. Judd, but this time it's different. Judd had his family to support him and keep him from the ledge, Vasic had no one. His conditioning started at the age of four and it was one of cruelest and hardest upbringings ever. Your heart will bleed for this one. Trained to follow orders and kill people, that is what he does best. Being used as a tool all those years, has pushed him almost past breaking point. Now that Silence has fallen, it's even more important for him to stay in control, one more push and he's of the ledge. Though one thing you need to know is that when it comes down to it Vasic has always been about protecting people, even more so than the other Arrows.
For the fall of Silence to really succeed, the Psy need their Empaths. They've tried to wipe out the gene at the beginning of Silence because it was a threat. Silence is suppressing all emotions basically, which goes against everything that Empaths stand for. Now they need to find the Empaths again and train them, to make the Net healthy again. Here is where Ivy comes into play, she is a real strong empath and it has nearly killed her going against her nature. The opportunity has come for her to finally let herself be, without getting punished for it. If she helps saving all those Psy even better.
That is how Ivy and Vasic get put together. For each empath gets his/her own Arrow protector. Spending so much time together with someone who just lets her emotions flow, isn't easy for Vasic to deal with. He's afraid that if he'll give in to the emotions Ivy calls upon, his conditioning might break and that would be the end of it. Ivy though isn't one to give up. She sees something in him and is convinced she can help him melt the frost around his heart.
While this possible romance is blossoming, there is still a big threat to the Net and time is running out. They will all need to work together and push their skills to save all the Psy and the Net from collapsing.
The Arrows are very intriguing, so I am really happy we get to know them better. Their first purpose is still protecting the Psy, but somewhere along the way people started using these skilled men for their own purposes. I am glad, we get to see this new side of them. These men were conditioned until breaking point and now they are rising up, becoming their own. I hope Aden is the one to get his own story next.
Nalini Singh is able to create the perfect mix of romance, action, mystery and growth. The characters go through certain changes to become better versions of themselves. Someone else is usually the trigger for that, but it's because they want it themselves that it really happens. Also it's not just on an individual level, the world and mostly the people within are always changing. With change often comes resistance and that's definitely the case here. Change isn't easy, but you need to believe in it and slowly people will accept it.
Another great one in the Psy-Chanheling series. We get to see a lot of old friends back and it's really interesting to see how everything is woven together. A lot of questions are answered, but there is one that still remains; what is next? Like I said, change isn't easy and the world is not yet finished changing. I can not wait to read what is coming next.
Psy-Changeling - Reading order and purchase links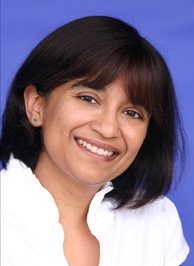 I've been writing as long as I can remember and all of my stories always held a thread of romance (even when I was writing about a prince who could shoot lasers out of his eyes). I love creating unique characters, love giving them happy endings and I even love the voices in my head. There's no other job I would rather be doing. In September 2002, when I got the call that Silhouette Desire wanted to buy my first book, Desert Warrior, it was a dream come true. I hope to continue living the dream until I keel over of old age on my keyboard.
I was born in Fiji and raised in New Zealand. I also spent three years living and working in Japan, during which time I took the chance to travel around Asia. I'm back in New Zealand now, but I'm always plotting new trips. If you'd like to see some of my travel snapshots, have a look at the Travel Diary page (updated every month).
So far, I've worked as a lawyer, a librarian, a candy factory general hand, a bank temp and an English teacher and not necessarily in that order. Some might call that inconsistency but I call it grist for the writer's mill.