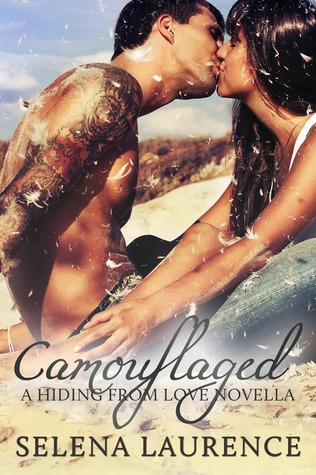 Gabe Thompson enlisted to help out his buddy, but three years later he's 100% US military bad boy, serving in the desert of Afghanistan where the days are hot, but the nights are hotter.

Alexis Garcia is out to save the world. The University of Texas freshman has come to Afghanistan to do aid work with the United Nations. She's all about the peace, and she has no use for the camp's biggest, baddest, gun toting player.

But, sometimes camouflage is more than a color, and people aren't what they seem. When conflict develops not only between Gabe and Alexis, but also all around them, they're forced to look deeper, and what they find will rock their worlds and change their hearts forever.
You know how I always go on about how I don't like novella's, well this is one I can definitely can get behind. It might help that it's over a hundred pages long and it was so easy to connect with these two main characters.
Gabe is definitely a confident, borderline arrogant player. He looks amazing, has some serious skills and the boy knows it and uses it. Serious is not his game, but it seems that most woman don't mind as long as they can have a little piece of him.
Alexis though is not impressed. She immediately calls out on his BS, but Gabe is not one to back out of a challenge. Except when said girl mentions she has a boyfriend, even guys like Gabe have a limit. Still the tension and chemistry between them is off the charts. If the desert wasn't hot enough for you, these two will put it on fire.
Then things only get more complicated. Gabe is assigned to be Alexis' bodyguard during her stay. Which pretty much means he has to be glued by her side 24/7. This gives them the time to get to know each other better and realizing that the first assumptions they made about each other, aren't necessarily right and that there is more.
When the situation around them, (never forget that they are in a warzone), gets very problematic they will need to rely on each other to get through it. This only seems to intensify the bond between them and certain decisions will need to be made.
I loved it! Gabe and Alexis are amazing characters. She is pretty straight forward, though dares to admit when she was wrong. Gabe is arrogant, but he's also very direct, knows what he wants and goes after it. During this story though we also get to see this other side of him, it's not always jokes, serious is also possible. Partly I felt that the joking around was necessary to counterweight the situation they were in.
This story is told from Gabe's POV so it was very easy to connect with him and see the evolution he goes through. Alexis was also interesting and I could definitely see the appeal. Though while I very much liked her, I would have loved getting inside her head, since she is the one where the emotions are the most conflicted. So I'm hoping that we get that chance in the next book.
I am definitely hooked! I pretty much read all current three books back to back. The characters are simply wonderful and I just needed more of them.
Hiding From Love - Reading order and purchase links
Selena Laurence lives in the foothills of the Rocky Mountains and spends a hell of a lot of time at soccer games, on her laptop, and reading. She requires a Mocha Latte every day to function, keeps a goldendoodle at her feet most of the time, and has more kids than she knows what to do with. Her husband, Mr. Laurence, spends as much time as he can at the office and the gym in order to avoid the kids, the dog, the laptop and the reading, but he always shows up for the soccer games, and he makes a mean Mocha Latte.