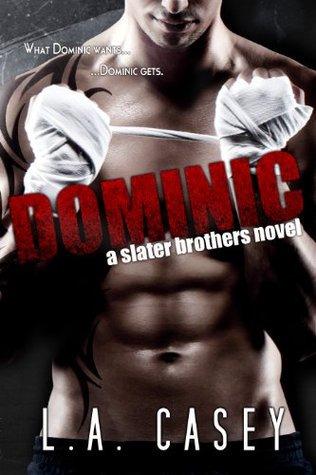 WARNING: If you don't like leading males that are possessive pr**ks, Dominic is NOT for you. If you don't like leading females that are stubborn bi**hes, Dominic is NOT for you. If you don't like characters who have bad tempers, Dominic is NOT for you. Most of all, if you don't like characters who CURSE A LOT and say EXACTLY what they feel and are thinking without sugar coating it then Dominic is REALLY NOT for you.

After a car accident killed her parents when she was a child, Bronagh Murphy chose to box herself off from people in an effort to keep herself from future hurt. If she doesn't befriend people, talk to them or acknowledge them in any way they leave her alone just like she wants.

When Dominic Slater enters her life, ignoring him is all she has to do to get his attention. Dominic is used to attention, and when he and his brothers move to Dublin, Ireland for family business, he gets nothing but attention. Attention from everyone except the beautiful brunette with a sharp tongue.

Dominic wants Bronagh and the only way he can get to her, is by dragging her from the boxed off corner she has herself trapped in the only way he knows how...by force.

Dominic wants her, and what Dominic wants, Dominic gets.
Honestly I didn't get further than the warning before I bought this book. I just read that and I had to have it. Usually I don't pay much attention to the warning, because it's often overrated, but L.A. Casey pretty much nailed it. This book truly needs the warning. I mean I curse a lot in daily life and work really hard not to use it in my reviews, but I can learn something from these characters.
The one thing I actually didn't expect was how young the main characters are. They are in their last year of high school, meaning they are barely 18 and that fact definitely adds to the intensity of this story.
In the beginning I had some trouble with Dominic and I needed some time understand his behaviour. The guy truly is a pr*ck. From the moment he walked into school he's been on Branagh case and not in the adorable or sweet way, definitely not that. To me this was straight up bullying. The guy never grew up much from kindergarten where you tease the girl you like, though this definitely takes it a step further. It was more Branagh was his favourite toy to play with and no one else is allowed to touch that or Dominic goes berserk on them.
Now Branagh has always lived the more quiet life ever since her parents died. She doesn't have any real friends and keeps everyone at arm's length. Though this doesn't mean the girl is afraid to stand up for herself, because the words that come out of her mouth will make you blush. So this idiot constantly getting in her face is driving her insane. Branagh doesn't understand Dominic and all they pretty much do is fight. There is no denying he's gorgeous, but his attitude is so off putting she knows nothing will ever happen even if he wanted to.
Those words of course come to bite her in the butt. It was really easy to connect with Branagh and get caught up in her anger towards Dominic. Seriously in those first 50 pages along, the fighting and the shouting is exhausting. I'm a lover not a fighter, but I do get that when Branagh gets treated that way she would react like that. The secondhand frustration turning into anger alone was riling me up, wanting to punch Dominic on multiple occasions.
Whatever this thing is between them, certainly isn't healthy in the beginning. Dominic has never felt this way, also has never been rejected, so he's acting out a lot. Unfortunately it's making everyone bonkers. It's all very intense, raw, in your face and I like it. Would I ever want a boyfriend like Dominic? Probably not, but like I said it's because I'm not a fighter.
There is one thing I liked a little less and that is a certain plot line. Don't worry, no spoilers here. To me it's a bit over the top and I'm having a bit of trouble to see how it was necessary for the story. So I'm going to wait until the next few books to see how it all plays out further and what effect it all has on these characters, before I make a final statement on that.
I also really loved the Irish in this book. You have to read the little note by the author in the beginning of the book, because I found it hilarious. I'm neither American, English or Irish, so I had no problem with all the dialect and the spelling of certain word. The use of the Irish in this book, made it just more authentic to me and I really do love the accent. I just wished the guys were Irish instead of American, it would have made them even more sexier.
This series has me totally hooked. I just finished reading this and I already want to read it again, so very addicting. Luckily there are 5 brothers and I can not wait to read all of their books. If you're like me and you read that warning and were like "hell, yes", go read this now! This series is definitely not for the faint of hearted or the prudes, but for the hell yeah's and those who don't mind worse cursing than a sailor.
Slater Brothers - Reading order and purchase links
L.A. Casey was born, raised and currently resides in Dublin, Ireland. She is a twenty two year old stay at home mother to an almost two year old German Shepherd named Storm and of course, her four and half year old (the half is apparently vital) beautiful little hellion/angel depending on the hour of the day.
Her first novel, Dominic, was released on March 17th, 2014, and on March 21st, 2014, it became an international Amazon bestseller.