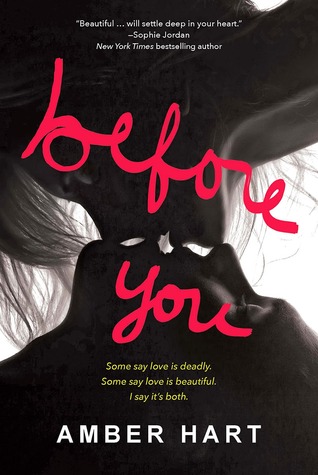 Some say love is deadly. Some say love is beautiful. I say it is both.

Faith Watters spent her junior year traveling the world, studying in exquisite places, before returning to Oviedo High School. From the outside her life is picture-perfect. Captain of the dance team. Popular. Happy. Too bad it's all a lie.

It will haunt me. It will claim me. It will shatter me. And I don't care.

Eighteen-year-old Diego Alvarez hates his new life in the States, but staying in Cuba is not an option. Covered in tattoos and scars, Diego doesn't stand a chance of fitting in. Nor does he want to. His only concern is staying hidden from his past—a past, which if it were to surface, would cost him everything. Including his life.

At Oviedo High School, it seems that Faith Watters and Diego Alvarez do not belong together. But fate is as tricky as it is lovely. Freedom with no restraint is what they long for. What they get is something different entirely.

Love—it will ruin you and save you, both.
We definitely have a bit of a Romeo and Julia thing going on here. This time though it's not the families hating each other, but the people around them. Prejudice can be such an ugly thing.
Faith screams good, nice white girl, while actually it's a mask she wears. Being the preacher's daughter people expect her to dress a certain way and behave a certain way, date a nice christian boy and Faith complies with those expectations even though it's slowly killing her inside. The only person who knows the real Faith is her friend Melissa and now there is this new boy who sees right through her.
Diego is actually a nice Cuban boy, who did what he had to do to protect his family, even though in the end it wasn't enough. He recently moved to America with his father in the hope of starting over. The guy definitely has a scary look going on with his tattoos and all his scars, but Faith's not intimidated by him.
These two are straight up intrigued by each other. They are both something they've never encountered before and the attraction is iminent. Though it's not as easy as you would think. While Diego is all what you see is what you get, Faith has trouble showing the real her. She is scared of other people's reaction. Slowly though Diego helps her shed that mask and show her it's okay to be who you want to be.
I was afraid of reading another lame Shakespeare themed novel, but Amber Hart was definitely able to surprise me. Diego and Faith are very interesting and strong characters. They both have been through a lot and I loved how they grew during this story. I was actually surprised by what they've been through, it added something captivating. It was not that easy to relate because I've never been close to either of their situations, but there were so easy to connect with. I could easily understand the need to pretend and the need to struggle free from that.
Overall a captivating story, with very strong characters and plenty of unexpected twists to keep it interesting. There is going to be a second novel and I'll definitely be reading that as well. There is that "we are from different worlds, what would people think" part, but that's not the main issue. It's about daring to be yourself and that being yourself is good enough.
Before & After - Reading order and purchase links
Amber Hart grew up in Orlando, Florida and Atlanta, Georgia. She now resides on the Florida coastline with family. When unable to find a book, she can be found writing, daydreaming, or with her toes in the sand. She's the author of BEFORE YOU, AFTER US, UNTIL YOU FIND ME, and sequel to UNTIL YOU FIND ME (untitled as of yet). Represented by Beth Miller of Writers House.