If her love life is going down in flames, she might as well spark a revolution.

Finding out on your sixteenth birthday you're a shape-shifting dragon is tough to swallow. Being hauled off to an elite boarding school is enough to choke on.

Since Bryn is the only crossbreed at the Institute for Excellence, all eyes are on her, but it's a particular black dragon, Zavien, who catches her attention.

Zavien is tired of the Council's rules. Segregated clans, being told who to love, and close-minded leaders make freedom of choice almost impossible. The new girl with the striped hair is a breath of fresh air, and with Bryn's help, they may be able to change the rules.

At the Institute, old grudges, new crushes, and death threats are all part of a normal day for Bryn. She'll need to learn to control her dragon powers if she wants to make it through her first year at school. But even focusing on staying alive is difficult when you're falling for someone you can't have.
I really liked the setup of the book. A girl finds out she is a dragon, therefore is forced to go to some private dragon school, where nearly everybody hates her and the Council pretty much decides everything about the dragons' lives, meaning she of course wants to change all that.
Bryn is a pretty great character. All the changes are kind of overwhelming, but she deals with it and doesn't let anybody put her down. She certainly added humor to the story with her sarcastic comments and quick retorts. Though Bryn doesn't quite understand all the hate she is getting from everyone. Mixed breeds are apparently not allowed, most people didn't even know that was possible. So she's an outcast, but also a threat to the current system because she is prove that a lot of things they claim to be is not true.
Luckily there are still some people on her side, like the black dragon Zavien. You can guess it, he's the older, rugged, overprotective hottie on campus and Bryn may have a huge crush on him. Before you go all "they are meant to be" on it, you should know that dragons are not allowed to marry outside their color and the Council actually decides which two dragons should be together. Since Bryn's parents went against the rules, she does believe her odds are pretty high of causing some trouble in that department.
Everything is this book happens really fast. There is not a lot of description and it's mostly dialogues. So it jumps quickly from one thing onto another without much of a transition. One moment she finds out she's a dragon, pretty much the next page she is off to school, first day, first threat etc. Sometimes you have YA stories, which adults would also very much enjoy. This book though is clearly aimed at very young teenagers. I feel like this is how 13 or 14 year olds imagine what life would be if they're sixteen.
There is also this strange fascination with food. Honestly don't start reading this on an empty stomach. Bryn is constantly eating or food is mentioned. They joke about it, but to me it felt really over the top and I've read books about restaurants or bakeries where food wasn't mentioned as much as in this one. That's a little extra I felt the need to mention.
Overall it's a fun book aimed at very young adults. If you belong to that age group, you will very much enjoy this. This is definitely the beginning of a series, because I haven't seen much of that revolution they talk about. So hopefully that will get worked out more in the next book. The humor was one of the best parts and to me really helped in keeping my interest.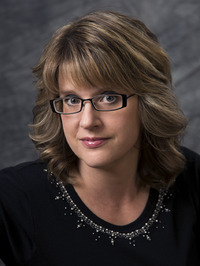 Chris Cannon lives in Southern Illinois with her husband and her three dogs, Pete the shih tzu who sleeps on her desk while she writes, Molly the ever-shedding yellow lab, and Tyson the sandwich-stealing German Shepherd Beagle. She believes coffee is the Elixir of Life. Most evenings after work, you can find her sucking down caffeine and writing fire-breathing paranormal adventures. Going Down In Flames is the first book in Chris Cannon's shape-shifting dragon series.