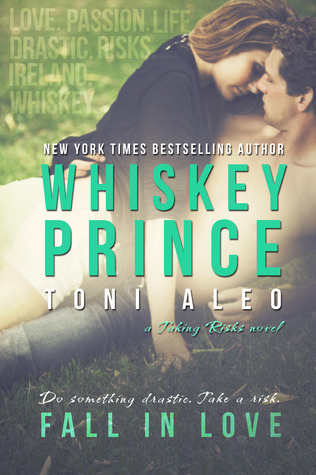 Take a risk.

Do something drastic.

Fall in love.

When Amberlyn Reilly loses her mother, her whole world comes crashing down. Having been caretaker to her for most of her teenage years, Amberlyn is inexperienced in many aspects of life. She hasn't had time to live, have fun, or enjoy even the little things. It's only when a letter from her mother, asking her to fulfill three things, sends her off to Ireland to live a life she never thought possible that she begins to heal.

Declan O'Callaghan was born and raised in Ireland and has his family's legendary whiskey in his veins. He's shy and not a fan of the pressure and spotlight that comes with his family name, or the title he was given at birth—the Whiskey Prince. Declan knows just what he wants and that is to take over the family dynasty, but when his father gives him an ultimatum, everything he's worked for could come undone in the blink of an eye.

With six months to get married, the reclusive Declan spots Amberlyn across a lake and instantly feels the need to know her. Soon, the two find themselves traveling down a path neither expected. However, like any road, there are bumps and side streets to derail them. Can Declan help find the pieces that will make Amberlyn whole again? And will Amberlyn stay or run when she learns of Declan's deadline of marriage?
When I think of Toni Aleo, I think steaming hot scenes, big emotions and real people with realistic problems. Now these two main characters are a bit younger and Amberlyn is still innocent, so we get everything that we are used to from Toni, just without the steaming scenes. Instead we get these real sweet, heartfelt moments and a hint of steamy.
This story was different and I absolutely loved it. Declan and Amberlyn are smitten with each other, making even me feel the butterflies. I was pretty much smiling throughout it all, they are so adorable together making me want to "Aww" all the time. It's a story about first love and real love, taking that risk of what might be the best thing that has ever happened to you.
The first time Declan sees Amberlyn is from across the lake, even from that distance he knew he had to get to know this girl. Since he's been living kind of like a recluse for the past couple of years, this definitely means going out of his comfort zone and having to mingle with people. I loved how nervous Declan got each time before seeing Amberlyn. He's not your typical alpha male. Don't get me wrong he's very protective about the people he loves, but he's reasonable about it. Declan is a softer kind of guy, actually wooing a girl, making her dreams come true, even a bit sensitive and a certain insecurity of not wanting to screw up. He's simply adorable.
Amberlyn has recently moved to Ireland after the death of her mom, which was a long battle with cancer. Those last couple of years Amberlyn's life consisted of school and taking care of her mom, there was no time for friends or boyfriends. Her mother left her a letter, pushing her to move, to start fresh and really start living her life. She's glad she followed that advice, because she loves working in the pub and her newfound family. When Amberlyn first meets Declan, she is kind of surprised. Since she didn't grew up in the town, she doesn't get why he's such a big deal and treats him like everyone else. Which to him is so refreshing and sparks start flying around.
Declan takes it kind of slow, maybe in the beginning even a bit too slow, because there are hijackers on the horizon. Still the chemistry between these two is off the charts, but they take their time and I loved seeing all those sweet moments between them. It all made the love between them more real and it gave us the chance to get to know them better.
There is that possible drama on the horizon of Declan needing to get married fast to inherit the family business. Still he does not want to marry someone he does not love, so it is awesome that he stands up for his believes and follows through. Family and tradition is very important, but it's nothing if you can't share it with the one you love. Declan was certainly interesting. He is the Whiskey Prince, women fall at his feet and every time he goes out, eyes are following his every move and he absolutely hates it. I can definitely understand why he's so intrigued by Amberlyn. She is just so different from what he's used to, a breath of fresh air that he needs in his life.
I loved how happy and silly Amberlyn was at times. She's just been through a big tragedy. The girl only buried her mom a couple of months ago, and still tries to make the best of it. Amberlyn is always looking at the positive side of life and that simply shines out of her, making the people around her feel good. Still her parents were very important in her life and their bond was very strong. Even if they're not physically present anymore, they are still very much in her life. Toni Aleo did an excellent job approaching this subject.
The Whiskey Prince is not quite what we are used to of Toni Aleo and I mean this in a good way. She did good, real good. It's always a risk changing things up, but when you get this as a result, it was definitely worth it. No hockey player in sight, not even a rugby player, but we do get Irish princes and that's very, very nice. Every time someone else but Amberlyn is speaking, you need to imagine it with an Irish accent. I guarantee that it only improves the story. I really do have a thing for accents, so everything they say sounds sexy, even if it's just a common word. It was simply a delightful read, with the right ingredients that will definitely make you fall in love with these characters.
Toni Aleo is the author of the Nasvhille Assassins series: Taking Shots, Trying to Score, Empty Net, Falling for the Backup, and Blue Lines.
When not rooting for her beloved Nashville Predators, she's probably going to her husband's and son's hockey games and her daughter's dance competitions, taking pictures, scrapbooking, or reading the latest romance novel.
She lives in the Nashville area with her husband, two children, and a bulldog.