Few things in life can come between a grim reaper and her coffee, but the sexy, sultry son of Satan is one of them. Now that Reyes Farrow has asked for her hand, Charley Davidson feels it's time to learn more about his past, but Reyes is reluctant to open up. When the official FBI file of his childhood abduction lands in her lap, Charley decides to go behind her mysterious beau's back and conduct her own investigation. Because what could go wrong?

Unfortunately, another case has fallen into her lap—one with dangerous implications. Some very insistent men want Charley to hunt down a witness who is scheduled to testify against their boss, a major player in the local crime syndicate. If Charley doesn't come up with an address in 48 hours, the people closest to her will start to disappear.

Add to that a desperate man in search of the soul he lost in a card game, a dogged mother determined to find the ghost of her son, and a beautiful, young Deaf boy haunted by his new ability to see the departed as clearly as he sees the living, and Charley has her hands full. The fact that Reyes has caught on to her latest venture only adds fuel to the inferno that he is. Good thing for Charley she's used to multi-tasking and always up for a challenge…especially when that challenge comes in the form of Reyes Farrow.
So I might have a little girl crush on Charley Davidson, either that or we have to best friends. There's no doubt about it. Charley is the type of person you will either absolutely love (like I do) or hate. Her thoughts are constantly all over the place and it isn't always easy to follow, but it's sure damn fun to figure out.
The main character is definitely what makes this series. It's not just the words that come out of her mouth, but also the situations this girl can get herself in. Which are mostly hilarious by the way and somehow never make me feel like she's in any real danger. That kind of changed in the last book and is something that comes back in this one. Charley's plans, if you can even call them that, have to tendency to always go awry and now they've become even more dangerous when people end up dying.
Nobody can't fault the girl for wanting to do the right thing. She is all about saving the humans, always looking at the positive side of things or beings, but in doing that she often forgets about herself. Luckily there is still Reyes at her beck and rescue. If it wasn't for that guy, Charley would have been dead five times over.
The PI stuff in this book was a little less to me then in the previous, even a bit tame in comparison. Though there is that one moment that has you on the edge of the seat, but it's over so fast you can barely comprehend what has happened before we move on to the next thing. The are more steamy scenes though and that kind of makes up for it. Reyes is one sexy son of a devil.
There are still so many questions about Charley, Reyes, Quentin, the devil, saving all humans and etc. Instead of getting any answers, I feel like the questions keep on piling up, so I'm very curious where Darynda Jones will take all this. The world and characters she has created are awesome and very intricate. I really love how everything is connected and hope one day everything will also make sense to me.
4.5
Charley Davidson - Reading order and purchase links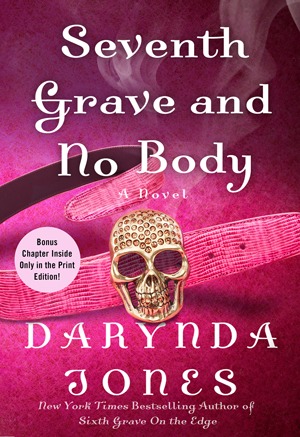 NYTimes and USA Today Bestselling Author Darynda Jones has won numerous awards for her work, including a prestigious RITA, a Golden Heart, and a Daphne du Maurier. As a born storyteller, she grew up spinning tales of dashing damsels and heroes in distress for any unfortunate soul who happened by, annoying man and beast alike. She currently has two series with St. Martin's Press, the Charley Davidson Series and the Darklight Trilogy. Darynda lives in the Land of Enchantment, also known as New Mexico, with her husband of more than 25 years and two beautiful sons, the Mighty, Mighty Jones Boys.