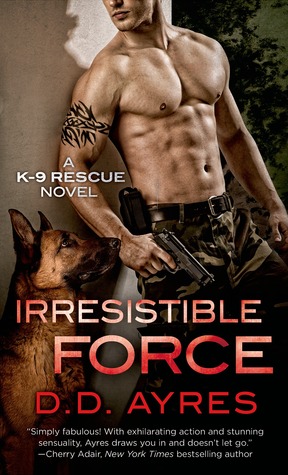 When adrenaline runs high, so does the force of desire…

For Shay Appleton, it's love at first sight when a gorgeous stray dog is brought into the animal shelter where she works. She just knows he'll make a terrific watch dog—and with an abusive ex who won't let go, she needs all the protection she can get. But Shay never suspected that her new pet is actually a trained police K-9 named Bogart—until Bogart's even more gorgeous, human partner shows up on her doorstep.

Officer James Cannon is one tall, strong alpha male who's convinced that Shay stole his dog. But once he gets closer to the suspect, he realizes that this stubborn, independent woman not only needs a guard dog, she needs James as well. It seems that someone from her past is stalking her, and threatening her life. When danger meets desire, will James risk his career and his best friend…to protect the woman who's stolen his heart?
Well let's be honest, it's the cover that drew me in at first. Hot half naked guy + cute dog = winner! Then reading that synopsis, I knew I needed to get my hands on this book and it did not disappoint at all.
There were a lot of things that took me by surprise and plenty of original twists. Weird ex-boyfriend with stalking tendencies isn't a first, but if you couple that with Shay's past and the drama that James unintentionally brings to her front door, it makes for one hell of a ride.
It has all the elements for a great read, one hot hero cop, one cute/badass dog, one fierce heroine and plenty of drama to keep it all going. This may seem like it's been done before, but I'm telling you this is not the fluffy read you think it will be. Personally I love that combination of romance and mystery/suspense. If done well, it adds a whole other, deeper level to the story and D.D. Ayres was able to this amazingly.
I don't want to give away anything about the story, because then the mystery would be ruined. Just know that James and Shay are great, but also more complex characters than you realize at first. Bogart is also amazing. I have to admit adding dogs to a story can only be considered a positive thing. The story on it's own definitely keeps you on the edge of your seat, wondering what in the world can possibly happen next and then the author just goes for it.
3.5
K-9 Rescue - Reading order and purchase links
*All books can be read as a standalone*
A veteran author of romance and women's fiction, D.D. Ayres is new to Romantic Suspense. She believes the lure of romance is always the human connection. Put that connection in physical jeopardy, and and we learn a bit moreabout who we really are.
With her K-9 Rescue series, D.D. hopes you will enjoy her sexy, suspenseful portrayals of K-9 teams at their best.
D.D. lives in Texas with her husband and a soft-coated Wheaten terrier named Zoe.