Wattpad Wednesday is a new weekly meme, where I review books that originated on
Wattpad
. So it can be published now and removed from Wattpad or currently still on this site. There is some crazy talent on that website and through this I want to help spread the word :)
My Life With The Walter Boys
is an overall favourite on Wattpad with its
39 million reads
!
Ali Novak
started writing this story when she was fifteen and it was published by Sourcebooks Fire when she was twenty two. Since the first draft and the final published story, it definitely has gone through some great changes.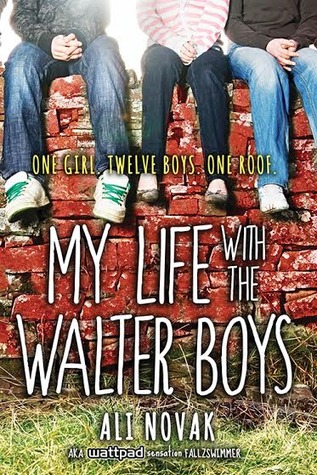 Sixteen-year old Jackie Howard knows nothing about her new guardian Katherine Walter when she moves from New York to Colorado.

After discovering that Katherine has twelve boys, Jackie fears that living in the Walter house isn't going to be easy. It's just icing on the cake that the boys look like Abercrombie models...
I remembered the big lines of this book, though it was clearly not the same story I read on Wattpad, it's now even better. Honestly I can appreciate the fact that it has changed, meaning the author gave some real thought into it and is serious about her work, wanting to improve herself. When you're twenty two a lot has changed since you were fifteen, so it only seems naturally the story would grow with you.
Now I really like reading about big families and their dynamic. It was certainly fun to see how Jackie, who only had one sister, coped with all of these boys. They don't go easy on her and aren't afraid to push her to her limit. Though it's not all bad, some of the boys are nice like Nathan, Alex and Danny. Others just need a little bit more time to get used to a girl in the house.
Also it's no denying that the Walter genes contains some serious hotness. Cole is gorgeous, knows it and uses it to his best advantages. I'm still not sure what to think of this boy. One moment he was all sweet and nice to Jackie, then next he's being a player and simply rude. All very confusing for Jackie, who before coming here has had no experience with boys whatsoever. They are a strange specie with their own confusing language.
I don't want to tell too much about the plot as it is way more fun and interesting to discover yourself. Jackie just hasn't been dealt an easy life recently and moving in with complete strangers, it would terrify anyone. I did really get the feeling she was sixteen, with some of the choices and mistakes she made. They weren't terrible, but they helped her grow.
The Walter boys were fascinating. They each had a very outspoken personality and they were all so different. Once in a while a bit stereotypical, though nothing too bad. Since there were so many of them, we don't get to know them all very well, some better than others. I do feel like I would have liked to get to know Cole better, maybe had a chance to see inside his head. They are a great bunch and such a joy to read about.
This book is the first and there should be a second book coming, though it doesn't end with a cliffhanger. It is an open ending, but I feel good about it. Things get resolved and you can use your own imagination to come up with a future of your liking. It would be awesome if every Walter family member, or at least the older ones, to get their own story, but we'll see how it goes. This is definitely a very fun and enjoyable book, with plenty of hot guys, funny situations and all the necessary drama that comes from living with twelve boys.
If after finishing this book, you want more Walter boys, you will want to read My Life As A Walter Boy. It is a completely different story (to me), though it involves the Walter boys and is told from Cole's POV
My Life With The Walter Boys - Reading order and purchase links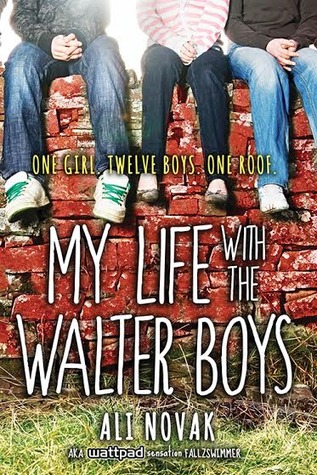 Ali Novak is twenty-two-year-old debut author and a recent graduate from University of Madison Wisconsin's creative writing program. She wrote her first full length novel My Life with the Walter Boys at the age of fifteen. Since posting the story online, it has received more than 35 million reads and will be published by Sourcebooks Fire in March 2014.
When she isn't writing, Ali enjoys watching Food Network shows even though she can't cook, and reading any type of fantasy novel she can get her hands on. She is a Wisconsin native and hopes to make a career out of writing.