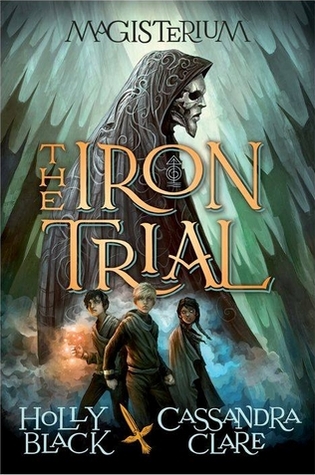 From NEW YORK TIMES bestselling authors Holly Black and Cassandra Clare comes a riveting new series that defies what you think you know about the world of magic.

From two bestselling superstars, a dazzling and magical middle-grade collaboration centering on the students of the Magisterium, an academy for those with a propensity toward magic. In this first book, a new student comes to the Magisterium against his will -- is it because he is destined to be a powerful magician, or is the truth more twisted than that? It's a journey that will thrill you, surprise you, and make you wonder about the clear-cut distinction usually made between good and evil.
The thing is, I love Cassandra Clare and Holly Black. They both have written some excellent books, so I was very excited when they announced they were going to write a book together. So my expectations were pretty high and it wasn't quite what I was expecting.
Now the story is definitely written for middle-graders. This becomes very clear from the age of the main characters and the overall lack of complexity in the writing and some parts of the plot. Still normally that wouldn't be a bother to me. It's just something you need to take in mind.
I read this story in two sittings. The first time I stopped, I was exactly at the half of the book and like I tweeted, my first thought was 'Harry Potter.' Usually I don't look for comparisons between books, but this time it felt so upfront, it was impossible not to notice. It's of course not an exact copy, there are just a lot of similarities and you get that same feeling with the two books. Which you can consider a good thing, since I'm somewhat comparing The Iron Trial with Harry Potter, though the level is definitely different.
This is the first time I believe, I gave away my thoughts before finishing a book and it quickly became clear I judged too fast. Call might not be the hero I thought he was supposed to be. These authors will put you on a false trail, and I walked right into it. That's not to say I wasn't right about some smaller, but still important details. I am very curious how this will all play out. The hero and villain are not who you expect, the plot development isn't as straight forward as you thought and there is still so much to learn about this world of magic.
It's mostly because of the whole Harry Potter feeling that made me gave it this 3.5 star rating. I realize it's not easy to co-write a book, but with these two authors I just expected more. The writing on it's own was great and the story flows very well, though I do believe there is some complexity missing (therefore making this a book for middle-graders). I think thirteen and fourteen-year-olds, boys and girls will very much enjoy the story of Call and his friends. Without the spoilers I just need to add that it's definitely the second part of the book that convinced me to read the next one in this series.
Here are some of my extra thoughts on the story and mainly the character Call. Do not read this if you haven't read the book, because it will spoil everything!!!
As to why I get the whole Harry Potter feeling on this story and this was before I came to the end. From the beginning I suspected Call was a very powerful wizard, and the reason that his dad kept him away from the Magisterium was because Call's mom got killed by the bad guy and the Magisterium didn't fulfill their promise of protecting the innocent.
What I also suspected was that the Enemy left a little piece of himself in Call. Since Call was the only one surviving that massacre when he was a baby, it made it a bit suspicious. Therefore I believed in a powerful Call, that he would have an affinity with chaos magic and well you can see why I started imagining some great battle between him and the Enemy.
So it definitely took me by surprise when it became clear that Aaron is the hero, the one who will have to defeat the Enemy. This changed the whole dynamic between Call and his friends. Because now it felt like Call wasn't the main big topic, but Aaron. So I believed we might get a tale from the best friend's pov, which looks very promising. Except there is of course still the issue of what is so special about Call then?
Another major spoiler!!!
Apparently Call is the reincarnation of the Enemy. That guy died on the battlefield many years ago and transferred his soul into Call's body. So I might have not been completely right on the part of a piece of the Enemy sitting within Call, instead he is the Enemy. Still feeling some Harry Potter vibes though. Call doesn't remember anything from his life as the bad guy, so he's hoping he can still be a good guy now and hopefully nobody finds out or they will want to kill him.
But how do you blame someone who doesn't remember? Somebody who is no longer evil and in this lifetime has done nothing wrong? I'm definitely left feeling WTH!
It's this second part of the book that convinced me to read the next one in this series.
3.5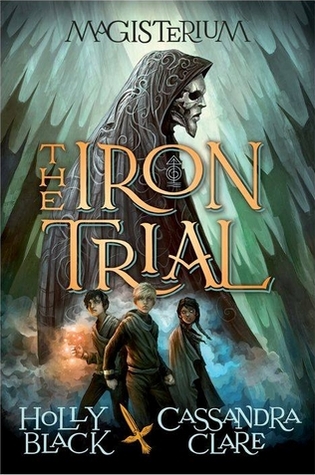 Cassandra Clare is the author of the #1 New York Times, USA TODAY, Wall Street Journal, and Publishers Weekly bestselling Mortal Instruments series, The Infernal Devices trilogy, and The Bane Chronicles. Her books have more than 30 million copies in print worldwide and have been translated into more than thirty-five languages. Cassandra lives in western Massachusetts.
Holly Black is the bestselling author of contemporary fantasy novels for teens and children, including Tithe: A Modern Faerie Tale and the #1 New York Times bestselling Spiderwick series. She has been a finalist for the Mythopoeic Award and the Eisner Award, and the recipient of the Andre Norton Award. Holly lives in Massachusetts with her husband, Theo, in a house with a secret library.