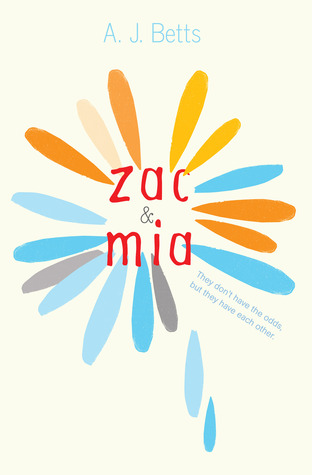 The Fault in Our Stars meets Eleanor and Park in this tough and tender young adult novel that's a lot about love (and a little about cancer).

"When I was little I believed in Jesus and Santa, spontaneous combustion, and the Loch Ness monster. Now I believe in science, statistics, and antibiotics." So says seventeen-year-old Zac Meier during a long, grueling leukemia treatment in Perth, Australia. A loud blast of Lady Gaga alerts him to the presence of Mia, the angry, not-at-all-stoic cancer patient in the room next door. Once released, the two near-strangers can't forget each other, even as they desperately try to resume normal lives. The story of their mysterious connection drives this unflinchingly tough, tender novel told in two voices.
I find that the description of this book isn't really correct. There is definitely a part about love, but to me it seemed mostly about cancer. Both Mia and Zac have it and while Mia is still in the whole denial phase, Zac has accepted it and is fighting with all his might.
The story very much focuses on how they deal or not deal with this condition. Zac, even though it's the second time for him, is still hopeful. He does have a tendency to memorize certain statistics, but they help him calm down and somehow see his situation on the positive side. Mia on the other hand is angry at the world, her mom and her friends. If it wasn't for the fact that she's a minor, I believe she wouldn't even be in the hospital.
I had trouble connecting with Mia and her overall negativity. Cancer is a terrible thing and you're allowed to be mad, as long as you deal with what is going on. Mia wasn't doing that at all. It isn't until very much later in the story that I started liking her, when she starts facing reality.
Zac on the other hand, I liked very much. His optimism really helped this from being a sad story. Even when things don't go the way he hoped they would, this is the guy you root for. Also his interaction with the people around him, and especially Mia was interesting to see. He's been through a lot, and while others might see him as brave, he just sees himself as a regular guy who got sick.
This was a great and enjoyable story. To me though there were these little things I felt missing, like some backstory for the two main characters. You do get a little family dynamic, and minimal mention of social life, and therefore the focus seemed really just on Zac and Mia, and cancer. It's one of those books where I'm not quite sure if I love it or just like it. I know I loved Zac's character, but I barely liked Mia at times. Now the writing was superb and I really liked the flow of the story. I think A.J. Betts did an excellent job on this one.
3.5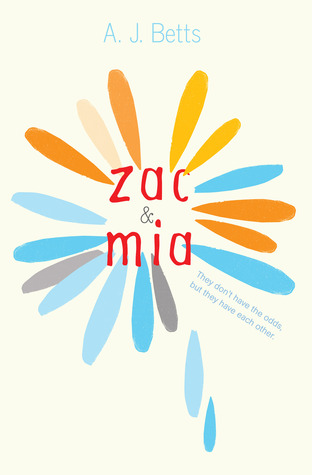 I'm a Perth-based writer who writes realistic fiction for teenagers (14+) but adults enjoy them too. I'm also an English teacher, poet, writer of non-fiction texts, presenter and reader.