Today we have the lovely L.A. Casey with us. She's telling us all about where she found the inspiration to write her Slater Brothers series. I read her new release Alec and well these brothers are addictive! Don't forget to enter the giveaways to win an

Amazon gift card

and a

copy of Alec

.

What Inspired Me to Write My Book

This will sound odd, but what inspired me to write Dominic was a real life fight I witnessed a long while ago. When I was nineteen years old (a few months before I wrote Dominic) I was out celebrating my birthday with friends in a night club when a fight broke out. I know I write violent characters who get themselves into violent situations, but fighting in real life makes me sick to my stomach and this fight was no different. It was actually worse for me to witness because it was five lads versus two. They kicked the shite out of each other, but oddly, the two lads got the upper hand and won the fight.

The initial fight did nothing for me except make me feel disgusted and sick, but what brightened my spirit was what I found out after the fight. I found out it wasn't an unprovoked attack and that the two lads who won the fight were brothers and one of the five lads they fought punched their younger brother in the face and they were defending him. It was supposedly a fair fight at the start, the two brothers versus the lad who hurt their brother and his friend, but when the brothers were clearly winning, three friends of two lads jumped in to help fight the brothers but to no avail. That stuck with me for a long time. I loved that against the odds the brothers stood up for there family and fought to protect their brother even though it possibly meant getting a serious beating. In my mind that family love and loyalty eventually developed into the Slater brothers and then Dominic was born. It's hard to believe, but I don't like violence, I just love crazy characters and that is exactly what the Slater brothers are. Crazy.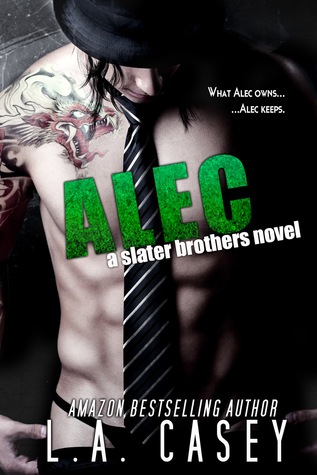 Keela Daley is the black sheep of her family. She has always come second to her younger cousin Micah. Even in the eyes of her mother, Micah shone bright, and Keela faded to black. Now, in adulthood, Micah is a bride-to-be and the spotlight is solely on her. Keela is a low priority...or so she thinks.

Alec Slater is a bachelor, never one to bed the same woman, or man, twice. He is a free agent who does what he pleases and answers to no one; that is until a fiery Irish redhead with a temper to match her hair colour knocks him on his arse. Literally.

She hates to admit it, but Keela needs a favour from the cocky Slater brother, a huge favour. She needs him to not only escort her to Micah's wedding, but to also pose as her boyfriend. Alec agrees to help Keela, but has certain conditions for her to abide by. He wants her body and plans to have it before anyone can say I do.

What he doesn't plan on is losing his heart as well as the possibility of losing his family when someone from his past threatens his future.

Alec owns Keela, and what Alec owns, Alec keeps.
Alec takes place about three years after Dominic and I do recommend reading that one first, or you might get a bit lost with the background story.
I was really curious how Alec's story would play out. While his other brothers may have been involved in more violent pastimes, I believed Alec's had a more emotional impact. Though honestly, but one very disturbing scene, you don't get to see much of this side. He's not particularly hiding his past, but he's not going to start talking about himself.
So when little miss Keela asks him for a favour, at first he isn't so keen. Though upon hearing who's involved, namely Micah and Jason, this seems like a brilliant idea. It would even be better if he could convince Keela to make their fake relationship more real.
In the beginning it does feel a bit like a repeat from Dominic, simply because Alec likes getting to Keela and it seems all she does is scream and yell at him. Luckily that doesn't take too long, being on the Bahamas really helps a person relax I guess. Also they are older, a teeny bit more mature. I am grateful for this lack of repeat, because as fun as Dominic and Bronagh are to read about, they are also exhausting.
The connection between these two is definitely there. I really liked Alec's happy nature, there was more humor than expected. Keela is pretty great as well. I like that she isn't afraid to fight for what she wants and she's very protective of those she loves. That becomes clear on multiple occassions.
Again the action in this book took me by surprise. There is a little hint at it in the beginning, making you wonder where this is going, but it takes a while to become clear. It is a bit over the top and I'm again wondering where the police is in all this, but overall it does give me the feeling of reading a movie. It's very easy for me to picture this all in my head. We've got the banter and sexual tension, the humor, some action and it all comes together pretty great.
A little bit less childless drama and more humor, definitely another great one for L.A. Casey. These brothers are addictive and in no way am I quitting them.
Slater Brothers - Reading order and purchase links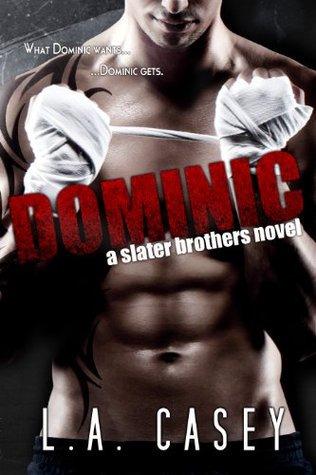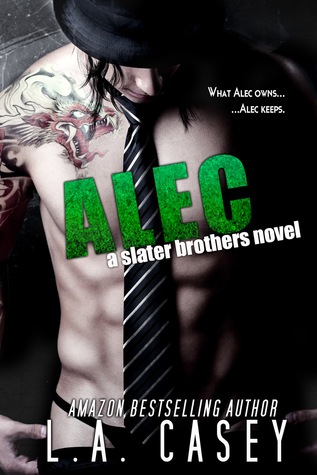 L.A. Casey was born, raised and currently resides in Dublin, Ireland. She is a twenty two year old stay at home mother to an almost two year old German Shepherd named Storm and of course, her four and half year old (the half is apparently vital) beautiful little hellion/angel depending on the hour of the day.
Her first novel, Dominic, was released on March 17th, 2014, and on March 21st, 2014, it became an international Amazon bestseller.