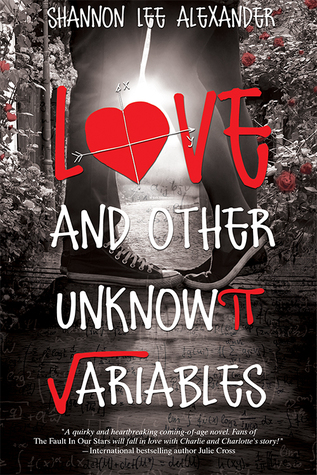 Charlie Hanson has a clear vision of his future. A senior at Brighton School of Mathematics and Science, he knows he'll graduate, go to MIT, and inevitably discover solutions to the universe's greatest unanswered questions. He's that smart. But Charlie's future blurs the moment he reaches out to touch the tattoo on a beautiful girl's neck.

The future has never seemed very kind to Charlotte Finch, so she's counting on the present. She's not impressed by the strange boy at the donut shop—until she learns he's a student at Brighton where her sister has just taken a job as the English teacher. With her encouragement, Charlie orchestrates the most effective prank campaign in Brighton history. But, in doing so, he puts his own future in jeopardy.

By the time he learns she's ill—and that the pranks were a way to distract Ms. Finch from Charlotte's illness—Charlotte's gravitational pull is too great to overcome. Soon he must choose between the familiar formulas he's always relied on or the girl he's falling for (at far more than 32 feet per second squared).
In the end this story will break your heart. Charlie is a very smart guy and he actually likes numbers and mathematical problems. It's people Charlie has more trouble with, especially when it comes to girls. The moment he touches Charlotte's tattoo and she didn't slap him for it, he's pretty much fallen for her. Charlotte intrigues in a way that nobody else has ever done and she might be his toughest challenge to figure out.
Slowly they get to know each other and well Charlie is in way over his head. He knows Charlotte is hiding something from him and when he finds out, you can see his heart shattering. Charlotte is very ill and after years of trying to get better, she has decided to live the rest of her life the way she wants to. You can see the drama unfolding and I definitely cried towards the end, because no matter what is going to happen next you always keep hoping. You hope Charlotte gets better or that she and Charlie can have more time together and so on.
Charlie knew pretty much upfront that this girl would break his heart one way or another, still denying her and his love for her was impossible. It was impossible for Charlie not to love Charlotte. I honestly believed he handled it all very well. He might have not always made the best decisions, but his heart was always in the right place.
Math and science were always Charlie's thing. Now love and feelings are involved and the guy is completely clueless. Still his dorky side is endearing and you can completely understand a girl could fall for him. While of course there is this sadder undertone, there were still plenty of moments for laughter. The pranks he pulls on Ms. Finch are often geeky but also funny. Charlotte is also all about living her life, so while sadness is inevitable she refuses to give into it.
These two main characters will pull on your heart strings and not let go. I finished it and pretty much immediately had to start reading something else or I knew I wouldn't be able to let it go for days. So a book hangover is definitely possible here. Charlie and Charlotte are both still very young, which all just makes it so much more bittersweet. I completely fell in love with these two and their story.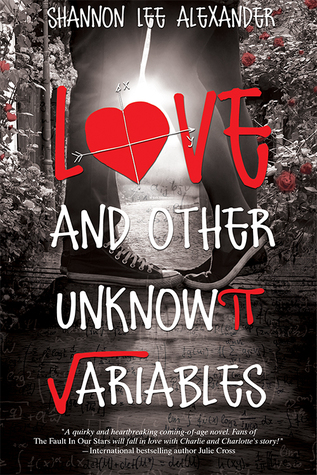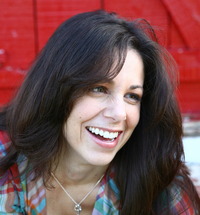 Shannon Lee Alexander is a wife and mother (of two kids and one yellow terrier named Harriet Potter). She is passionate about coffee, books, and cancer research. Math makes her break out in a sweat. Love and Other Unknown Variables is her debut novel. She currently lives in Indianapolis with her family.