During the weekends I sometimes work for this publisher at book sales. This two weeks it is the
biggest book fair
here in Belgium, more specifically in Antwerp. A lot of local authors and speakers are usually present, and they always manage to get some international people as well.
I honestly never paid much attention to this, as often they are somewhat older and unknown authors to me. But this year we have some really big names like Sophie Kinsella, Cassandra Clare and Holly Black. I even only found out yesterday morning when I was working that
Kiera Cass
would be speaking, so I had to see this/her (during my lunchbreak).
Since it was during my lunchbreak, which is only thirty minutes, I wasn't able to stay for the entire session. I've managed to take a couple of pictures and
video's for the responses
. This was just with my phone, so audio quality and image stability might not be the best :p
Best Of YA Books set it up pretty nicely. Kiera Cass was very happy with the
bouncy couch
and had trouble sitting still :) She was introduced and then the audience got to ask questions, simple as that. After that the promo team had some
fluffy princess dresses
ready, girls could put on and get
pictures
of themselves,
Prince Maxon
and Kiera Cass. Unfortunately I couldn't stay until that part, but it was just pretty cool to see her :) My
first experience
with an international author!!!
Q1: Some people find America a frustrating character. Was it frustrating for you to write her?
Q2: How long did it take to write The Selection?
Q3: How did you come up with the idea of The Selection? What inspired you?
Esther (from the Bible) and Cinderella. Kiera Cass first starts talking about Esther.
Q4: Do you ever get embarrassed about awkward/kissing scenes?
Q5: There's this country called Swinley, which countries does this represent?
So that's it for the questions I was able to get on camera. Kiera Cass did say there would be a 4th (The Heir) and 5th book, that she finds the inspiration for her male characters mostly in her husband and that as of now there is nothing official for doing a movie adaptation of the books!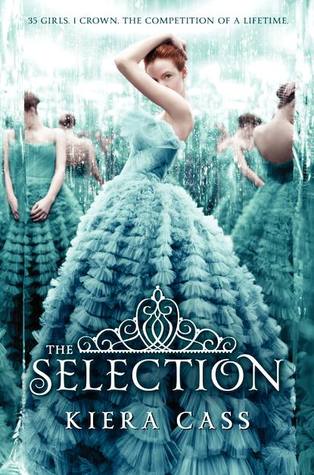 For thirty-five girls, the Selection is the chance of a lifetime. The opportunity to escape the life laid out for them since birth. To be swept up in a world of glittering gowns and priceless jewels. To live in a palace and compete for the heart of gorgeous Prince Maxon.

But for America Singer, being Selected is a nightmare. It means turning her back on her secret love with Aspen, who is a caste below her. Leaving her home to enter a fierce competition for a crown she doesn't want. Living in a palace that is constantly threatened by violent rebel attacks.

Then America meets Prince Maxon. Gradually, she starts to question all the plans she's made for herself--and realizes that the life she's always dreamed of may not compare to a future she never imagined.