Sometimes secrets kill. Maybe slowly, maybe painfully. Maybe all at once.

Melissa smiles. She flirts. She jokes. But she never shows her scars. Eight months after tragedy ripped her from her closest friend, Melissa is broken. Inside her grows a tumor, fed by grief, rage, and the painful memory of a single forbidden kiss.

Javier has scars of his own: a bullet wound, and the memory of a cousin shot in the heart. Life in the States was supposed to be a new beginning, but a boy obsessed by vengeance has no time for the American dream. To honor his familia, Javier joins the gang who set up his cousin's murder. The entrance price is blood. Death is the only escape.

These two broken souls could make each other whole again - or be shattered forever. Our time will come. And we'll be ready.
It's been almost a year since the big blow up. Diego is no longer here and Faith has escaped to Nicaragua. Left back home is Melissa and Javier. They too were affected by the tragedy and it hasn't been very easy for them. Melissa had her own personal struggle, and with her best friend so far away and also mentally distant, that relationship is almost showing cracks. Meanwhile Javier's heart is bleeding for his cousin, not being able to let it go. So he comes up with a plan of revenge, setting the score straight.
By accident Melissa and Javier run into each other again. Remembering the good times they had, they need that carefree happiness again in their lives. Instead of denying the attraction, they both just go for it. Though it's clear they are no longer the same people as a year ago. They are more guarded, have more secrets, and love deeper.
As things develop further, it becomes more and more difficult to keep the other at a distance. It's really only a matter of times before all secrets get revealed and the truth isn't always that pretty.
Melissa and Javier were both likeable characters and it's interesting to see how much they've changed in the last year. There was an easy and natural flow in the development of their connection, though the drama around felt a bit of an afterthought. The main focus was definitely the love story, while Melissa's personal struggles and Javier's need for revenge were secondary. Here the "we're from two different ethnicities" definitely played a bigger part, though the story was still very much about hope. Two people who've lost it all, finding hope again in each other.
Before & After - Reading order and purchase links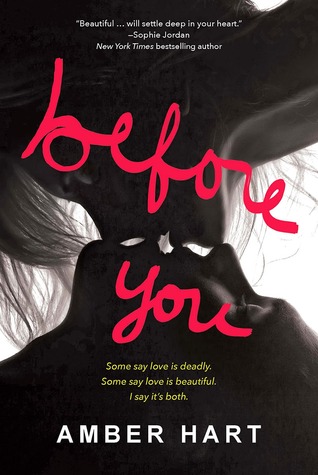 Amber Hart grew up in Orlando, Florida and Atlanta, Georgia. She now resides on the Florida coastline with family. When unable to find a book, she can be found writing, daydreaming, or with her toes in the sand. She's the author of BEFORE YOU, AFTER US, UNTIL YOU FIND ME, and sequel to UNTIL YOU FIND ME (untitled as of yet). Represented by Beth Miller of Writers House.