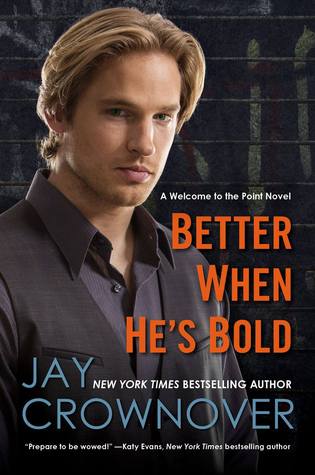 Some men are just better when they're bold.
Welcome to the Point...

In a dark and broken kingdom, a ruler has to be fearless to control the streets and the ruthless people who run them.
Race Hartman is just bold enough, just smart enough, and just lost enough to wear the crown. Places like the Point will always have bad things and bad people, but the man in control of all that badness can minimize the devastation. Race has a plan, but can he prevent total annihilation without destroying himself?

Brysen Carter has always seen her best friend's brother for what he is--too pretty, too smooth, and way too dangerous to touch. Basking in Race's golden glow is very tempting, but Brysen knows she'd eventually get burned.

When she starts receiving threatening texts and someone tries to take her out in parking lot, the only person interested in keeping her safe is the one man she can't allow herself to have.

Sometimes being bold is the only way to stay alive. But can she let Race save her life . . . if it means losing herself to him?
While Bax was bad, Race screams trouble. He's pretty much a walking, talking contradiction. Grew up in the Hills until one night he met Bax, attracted by the excitement of the Point he kind of went off track, then he found out about his sister and things just completely exploded. Now somehow he's become the crime lord of the Point, though he does it mostly to keep trouble away. Meaning he's not a bad guy, with bad intentions like so many others out there, but he does this to keep those bad guys off the throne, so they wouldn't make things worse. Though lets be honest, the money isn't hurting either.
Now with that kind of job comes certain dangers, so I was actually surprised when the threat came from somewhere completely else. Brysen likes to think of herself to be a regular college girl. It's just that her father is a workaholic, and her mother an alcoholic. Meaning that she is responsible for the house and her little sister. So life for her isn't as easy as she would have liked these past couple of years. While she admits being attracted to Race, she isn't a complete idiot, she knows he would only bring more trouble in her life.
Still circumstances pushes them together and Brycen is done ignoring him and hating everything he stands for. Now there is someone after her and Race might be the only one who can keep her safe, though there are plenty of twists to keep you guessing.
Better When He's Bold was a little bit more tame than Better When He's Bad. Bax and Race are completely different and it was wrong of me to expect the same kind of story. With Race it's easier to belief there is good inside him. He also has a little bit more optimism in him, and that gives us a little ray of sunshine. His business of course demands him to do bad things, but somehow it feels more justified.
Brycen was a surprise to me. I had no idea what she was dealing with at home and this new threat came out of left field. Though I have to admit that about halfway through I realised what was going on and who was behind it. So plotwise more predictable, but still plenty of twists and turns in between to keep me on the edge of my seat.
Great novel, with amazing characters and there is so much potential for more stories. I already look forward to reading Titus' story next!
Welcome To The Point - Reading order and purchase link
J
ay Crownover is the New York Times and USA Today bestselling author of the Marked Men series. She also introduced the dark and sexy world of The Point that started with BETTER WHEN HE's BAD and is currently working on her newest series The Saint of Denver. Like her characters, she is a big fan of tattoos. She loves music and wishes she could be a rock star, but since she has no aptitude for singing or instrument playing, she'll settle for writing stories with interesting characters that make the reader feel something. She lives in Colorado with her three dogs.