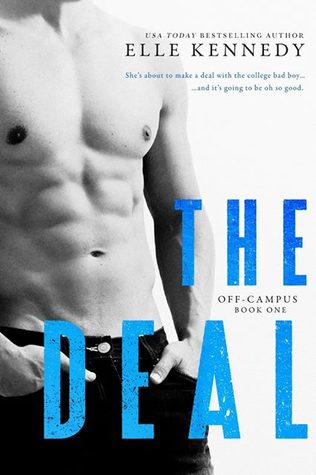 She's about to make a deal with the college bad boy...

Hannah Wells has finally found someone who turns her on. But while she might be confident in every other area of her life, she's carting around a full set of baggage when it comes to sex and seduction. If she wants to get her crush's attention, she'll have to step out of her comfort zone and make him take notice…even if it means tutoring the annoying, childish, cocky captain of the hockey team in exchange for a pretend date.

...and it's going to be oh so good.

All Garrett Graham has ever wanted is to play professional hockey after graduation, but his plummeting GPA is threatening everything he's worked so hard for. If helping a sarcastic brunette make another guy jealous will help him secure his position on the team, he's all for it. But when one unexpected kiss leads to the wildest sex of both their lives, it doesn't take long for Garrett to realize that pretend isn't going to cut it. Now he just has to convince Hannah that the man she wants looks a lot like him.
This is one of those books where I almost don't want to explain why you should read it. Meaning, you should just trust me, read it and I know you'll love it too.
The Deal was my first book by Elle Kennedy and it certainly won't be my last. I already want more of these hockey players and all the other fantastic characters.
While the premise is pretty cliché, the non-popular girl and the star player, Elle Kennedy still manages to make it original. I love it when stories like these can take me by surprise. By now you'd think I have almost read of all it, all the variations. The ending on its own is of course no big surprise, I mean we're all rooting for a happily ever after. But the characters and the journey they undertake is what kept me turning the pages.
Sometimes New Adult can be a bit too angsty for me and characters are so wrapped up in their own head, that they miss what is out there or right in front of their face. This was not the case here. Both Garrett and Hannah have some demons from their past, but they are not crippled by it. They've already dealt with those issues a lot, and they won't let what happened dictate their lives. Quite the opposite, they are both fighters and not afraid to live their lives the way they want it.
I admire Hannah so much. What she has gone through is every girl's nightmare, but throughout the years she has managed to give it a place in her life and not let fear rule it. She's strong, confident, and witty. Except crushing on some guy, who doesn't even notice her, her life is going great. When Garrett first offered to help her out, in exchange for some tutoring, she wasn't very excited about it. Honestly at first Hannah doesn't want to have anything to do with the hockey player. It was actually surprising how she wasn't afraid to tell Garrett off, when she could barely utter two words to her crush. In the end though she relents, and that was only the beginning when it came to Garrett.
Garrett has his own issues, in a way they are more hidden, and he's so focused on other things that those issues are a thing from the past. Hockey is his life, and girls are the entertainment. But when failing an exam jeopardizes his future, he's not one to give up and having Hannah tutor him is the only solution. I liked that Garrett admitted that before needing her, he had no clue who she was, but now he's actually very upfront about what he thinks of her.
The dynamic between these two was so much fun to read about. They are constantly on each other's case, Garrett is all about the sexual innuendos, and Hannah can be so sarcastic. Seriously these two are a hoot. There is certainly a physical attraction in the beginning. Hannah is no fool, and does realizes how hot Garrett is. While Garrett loves the ladies, and since Hannah is a lady, he likes her. From a reluctant partnership, it grows into a friendship and then so much more.
Even when there is big drama, it's still so reasonable. Hannah and Garrett felt so real to me. Two people who I wouldn't mind hanging out with, it would be so much fun. Garrett's teammates are a blast and Hannah's friends are hilarious. Therefore I can not wait to read more about them. I'm really hoping that Logan, Garrett's best friend, gets his own story. That guy deserves his own girl.
All in all I loved The Deal. Characters were amazing, the humor was on point, not too much heavy drama, and the sexy times were off the charts. This to me makes a pretty perfect new adult romance novel.
4.5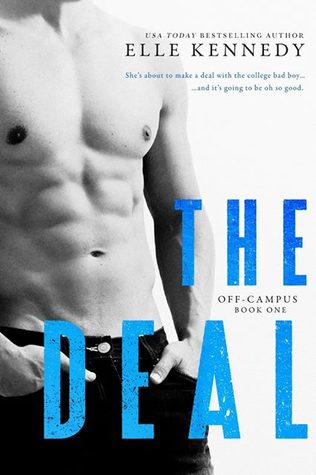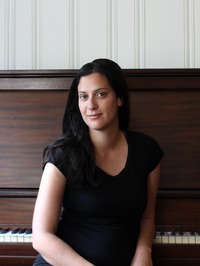 A RITA-award nominated author, Elle Kennedy grew up in the suburbs of Toronto, Ontario, and holds a B.A. in English from York University. From an early age, she knew she wanted to be a writer, and actively began pursuing that dream when she was a teenager.
Elle currently publishes with Harlequin Romantic Suspense, Harlequin Blaze, Samhain Publishing, and NAL. She loves strong heroines and sexy alpha heroes, and just enough heat and danger to keep things interesting!