Ellie Cahill is poised to coin the term "sorbet sex" with her charming twist on the age-old 'friends-with-benefits' story.

Dating can be fun, but it can leave a nasty taste in your mouth. For Joss, ever since her longtime boyfriend cheated on her, she doesn't want her last memory of a guy to be that jerk. Enter her college friend, Matt. They come up with a theory: after a bad break-up, a person needs to cleanse the palate with a little sorbet sex. Lovers for a night, but always back to being friends in the morning. The two can handle it because they have a contract: rules they wrote, rules they follow and rules they can sometimes bend. The arrangement works: everyone needs a little sorbet now and again … until it starts to be the only thing you want. And then Joss breaks the one rule they never wrote down: don't fall in love.
When Joss Met Matt was surprisingly a very sweet story, despite the main subject being sex. Through a series of flashbacks and a couple of current chapters, we get to see how this arrangement started between them and how it evolved throughout the years.
At first it's clearly strictly friendly between them. The sex is good, but it's always just one night to clear their pallet from the bad aftertaste of a broken relationship. I do really like how the main focus wasn't necessarily on what went on in the bedroom, but also on that connection between Joss and Matt. They are foremost friends, and you see that very clearly. Since this all started in college, you can kind of expect them to do this crazy "sorbet sex" thing, but when it continues after graduating, that's when you start seeing the real changes.
The story is told from Joss' point of view, so we never get inside Matt's head, but to me he was pretty easy to read. While we have those alternating flashbacks, to me that wasn't really necessary. The story could have easily been told chronologically and still have the same effect. I'm not quite sure why the author did it that way.
I do have to say that it wasn't easy to see where friendship turned into love. Both are pretty casual with their arrangement, and have plenty of relationships over the years and there is never any clear jealousy of them being with someone else. So maybe that have could played out a little more to me. Still overall I very much enjoyed When Joss Met Matt. With it being a New Adult book, it's actually pretty clean story. Both main characters are pretty nice, and feel very realistic (no over the top hotness, but real people). There was plenty of humor, which is always a bonus for me, and just a sweet and cute read.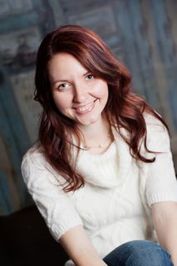 Liz Czukas is the author of fun YA romances like ASK AGAIN LATER (HarperTeen '14) and TOP TEN CLUES YOU'RE CLUELESS (HarperTeen '14). She also writes fun New Adult romances like WHEN JOSS MET MATT under the name Ellie Cahill.