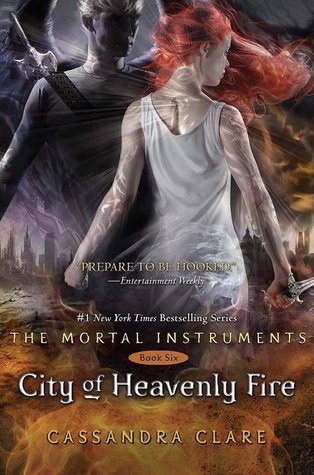 In this dazzling and long-awaited conclusion to the acclaimed Mortal Instruments series, Clary and her friends fight the greatest evil they have ever faced: Clary's own brother.

Sebastian Morgenstern is on the move, systematically turning Shadowhunter against Shadowhunter. Bearing the Infernal Cup, he transforms Shadowhunters into creatures out of nightmare, tearing apart families and lovers as the ranks of his Endarkened army swell.

The embattled Shadowhunters withdraw to Idris - but not even the famed demon towers of Alicante can keep Sebastian at bay. And with the Nephilim trapped in Idris, who will guard the world against demons?

When one of the greatest betrayals the Nephilim have ever known is revealed, Clary, Jace, Isabelle, Simon, and Alec must flee - even if their journey takes them deep into the demon realms, where no Shadowhunter has set foot before, and from which no human being has ever returned...

Love will be sacrificed and lives lost in the terrible battle for the fate of the word in the thrilling final installment of the classic urban fantasy series The Mortal Instruments!
A couple of weeks ago I started reading and reviewing this series, in wait for this release. There was a final book coming for Clary, so I had to (re)read the rest of the books. Afterwards I might start reading The Infernal Devices, if I ever find the time. Anyway I was so excited for City Of Heavenly Fire and it did not disappoint.
First I wanted to round in down to four stars, but after careful consideration I rounded it up to five. There were a couple of minor issues, but most of all I think this was an amazing end of this series. I don't want to get too much into plot details, don't want to spoil anything, but their were a lot of twists I did not see coming. Cassandra Clare did a wonderful job with this installment, my emotions were all over the place sometimes. This big battle really brings out the best and worst in some people.
Like in any war, people indeed die and there might have been a couple of tears, but in the end it is a story about hope and never giving up no matter how dark it gets. Once again I am overwhelmed by these characters and the love they have for each other. These people are willing to give up everything for the people standing beside them. They are brave, selfless, strong even when it all becomes too much, they still do not give up.
It has been a pleasure getting to know these characters, watching them grow and become even stronger. Not one is my favourite and I think there are all awesome. They are all so different, but somehow together it all works. To me it's really these characters that drive these books. There was even one point where I could almost believe that Jonathan/Sebastian could be redeemable, knowing what he did, you know Cassandra can pretty much work magic with words.
I really don't know what else to say, there is just so much going on and I could talk about it for days, but I don't want to spoil anything. Just read it and you'll understand. City Of Heavenly Fire was everything it needed to be.
P.S. We get some glimpses of the next series and I'm already in love with these characters. It will probably not be here until 2015, so it's going to be a long wait.
4.5
The Mortal Instruments - Reading order and purchase links
Cassandra Clare was born overseas and spent her early years traveling around the world with her family and several trunks of fantasy books. Cassandra worked for several years as an entertainment journalist for the Hollywood Reporter before turning her attention to fiction. She is the author of City of Bones, the first book in the Mortal Instruments trilogy and a New York Times bestseller. Cassandra lives with her fiance and their two cats in Massachusetts.