In Robin York's provocative new novel, two young ex-lovers find themselves together again in the shadow of tragedy—and an intense, undeniable attraction.

Caroline still dreams about West. His warm skin, his taut muscles, his hand sliding down her stomach. Then she wakes up and she's back to reality: West is gone. And before he left, he broke her heart.

Then, out of the blue, West calls in crisis. A tragedy has hit his family—a family that's already a fractured mess. Caroline knows what she has to do. Without discussion, without stopping to think, she's on a plane, flying to his side to support him in any way he needs.

They're together again, but things are totally different. West looks edgy, angry at the world. Caroline doesn't fit in. She should be back in Iowa, finalizing her civil suit against the ex-boyfriend who posted their explicit pictures on a revenge porn website. But here she is. Deeply into West, wrapped up in him, in love with him. Still.

They fought the odds once. Losing each other was hard. But finding their way back to each other couldn't be harder.
Sometimes I wonder why authors write two books about a couple when it could've easily been one. That is how I feel about this story. It could have all been told in one book, but now it's spread out in two and that felt unnecessary to me.
The last time we saw West and Caroline they each went their own way. West back home to Silt and Caroline home to prepare for her civil suit against Nick. She's been doing pretty well overall. Of course she misses West, but so far she's been able to focus on other things. When West calls her in the middle of the night in crisis, she's on the first plane.
Things between them are weird. West is very distant and Caroline wants to be there for him, but so far all she had to do was look after Frankie. His little sister is his world. Seeing where West came from is still a bit of a shock for Caroline. He just becomes a different man there.
This time it's actually West's story. His struggle to break clean from his past and daring to give himself a future he wants and deserves. All this while also taking care Frankie and maybe even finding a place for caroline in his life.
We already know these characters, so it was easy to get back in the zone with them. Though due to the fact that this whole book felt unnecessary to me, I had some troubles with it. It was a pretty slow read to me and I never truly got sucked into the story. So honestly it was a bit boring.
It was well written and I liked the dual pov. The struggles West had with his sister Frankie was interesting, though in general I felt a certain distance towards the story. It took me a while to pick up this one and while reading I just couldn't fully get into it. I really liked the first book in this duology. Caroline's predicament was bold, refreshing and very current. While West's story was interesting, it wasn't enough for me.
Caroline & West - Reading order and purchase links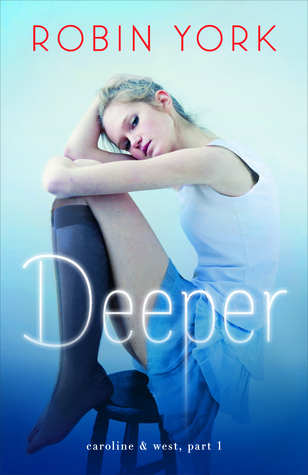 Robin York grew up at a college, went to college, signed on for some more college, and then married a university professor. She still isn't sure why it didn't occur to her to write New Adult sooner. Writing as
Ruthie Knox
, she is a USA TODAY bestselling author of contemporary romance, including RITA-finalists About Last Night andRoom at the Inn. She moonlights as a mother, makes killer salted caramels, and sorts out thorny plot problems while running, hiking, or riding her bike.