Music Monday
is a weekly book meme. Everyone can join in, you just have to do the following:
Choose a book or a scene from a book.
Choose a song that fits said book or scene.
Tell us why you paired them together.
Don't forget to share the title and author.
Be careful not to include

spoilers

!
So this week we're doing it a little bit different. I've received a teaser from
Boarded By Love by Toni Aleo
and they've asked to choose a song that I think fits with this. Now since it's a Toni Aleo book, it needs to be a song by Ed Sheeran. She's a bit of a crazy obsessed fan, but I can understand that. I saw him play live last friday and he's sublime. Therefore I've chosen the song
Kiss Me by Ed Sheeran
and I think the lyrics are pretty self-explanatory.
Trouble indeed, but it didn't matter. He's pushing and pulling me straight to him, and I am sure he isn't going to let me go. Not that I want to. There is something about him that has me completely and utterly drawn to him, no pulling needed. While I want to sleep with him, I also want to know him. Really, I have no clue what I want. I just want Jude. All of him and I'm glad he turned down my offer to go to bed. While I want it, I don't think I would have gone through with it, but then with the way he's looking at me, his hooded green eyes flaring with lust, I'm thinking that previous statement was a total lie.

I damn well want him more than my next breath.
So what song do you think fits with this teaser?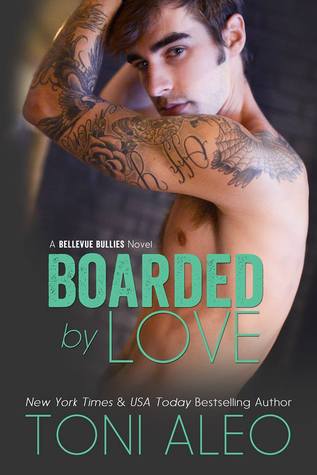 Jude Sinclair here, hockey player for the Bellevue Bullies and lover of all ladies. Hockey's in my blood, and not to sound full of myself, but I'm good at it…really good. The draft is within my reach—it's mine to take—but that's not the only reason people know my name. They know me because of my way with women. They know the score, and I aim to please. I just tend to stay away from repeat performances. In other words, I don't do relationships beyond my family and friends. I'm happy with life. However, I should warn you that my story and how I see it playing out is about to change due to a certain redhead on campus.
She's beautiful. Stunning. Breathtaking.
She's my game changer.
~*~
He's trouble from the moment I see him. I don't know what I'm thinking, but from the moment I meet his gaze, I'm his. It's a scary feeling.
I've never trusted anyone outside my aunt and uncle—and even that took months. I didn't have it easy growing up. My mom was usually strung out, and she didn't give me a second thought. Drugs and the men who paid her were more important to her. It was horrible, but I'm stronger today. Because of my past, security is what I need most. Money assures me that I can take care of myself today, tomorrow, and next month. I don't want to ever be hungry or go without again, so I work hard for every penny.
Oh, by the way, I'm Claire Anderson. I'm a hard-studying sophomore at the University of Bellevue, dancer for the school dance team, and a burlesque dancer at a club, but that's my secret.
You may think you know how our story ends, but you have no clue. It's not easy falling in love… or living happily ever after. At first it may seem so, but when is anything worth having ever won without a fight?
Especially when you're boarded by love.