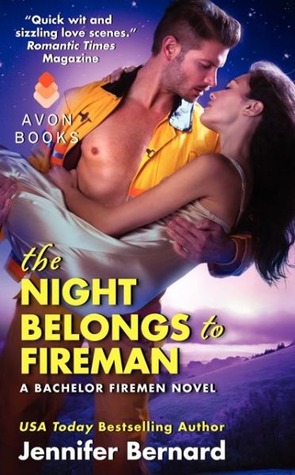 When fireman Fred Breen rescues a bachelorette party after a construction crane collapses onto their limo, the media labels him the "Bachelor Hero." But all Fred can think about is the petite brunette with the sexy mane of dark curls who bolted away from him faster than a wildfire after he carried her to safety. And when he discovers she's none other than Rachel Kessler, the daughter of a tech billionaire, the girl whose kidnapping riveted the nation, he intends to learn every intimate detail about this intriguing woman who sets his pulse on fire.

Rachel can't deny the lean-muscled firefighter is smokin' hot. But after having one too many drinks at the bar where she first meets him, Rachel knows she's made a fool of herself. Yet when he rescues her from the limo, she feels safe for the first time since she was held for ransom as a child. Then her overprotective father insists Fred be her bodyguard—and his close presence kindles a burning desire that only he can extinguish.
Oh, Fred, you're just such a sweetie. Seriously this guy is so nice, which I know is a terrible thing to say about a guy. Though in this case it's meant well. Fred is a nice guy, often too nice for people. Still in a world full of jerks, this can actually be very refreshing. Don't start thinking puppy nice though, rather think how german shepherds can also be nice, but they have this protective streak. Now as I think of it, that really would be the best animal representation for Fred. Overall a nice little doggie, though he can be tough and protective when it needs to be.
It's mostly Rachel who brings out that other side of him. When she has had one too many drinks on this crazy bachelorette night, Fred sees it as his civic duty to keep her from harm. His intentions were never not honorable, but he's not blind either. He's not quite sure what it is about this mysterious girl and he can't keep her out of his mind. Learning about her past, he definitely realizes there is something more going on between them as he fears for her safety, becoming very protective of her. Though not in that alpha testosterone filled way, Fred's reasonable about it, kind of.
Through "unfortunate" circumstances they now get to spend a lot of time together. Fred and Rachel aren't ones to let an opportunity go to waste, they use this time to get to know each other better in and out of the bedroom. Mostly things look pretty good, but there is always drama waiting around the corner.
I really, really liked this book. Mostly I liked Fred, I'll admit to that. He's just such a great guy and so dreamy. Certainly when you find out about his little bit darker side, which he mostly just shows in the bedroom. That came as a very nice surprise. Rachel is not a bad character. The horror from her past isn't that much in the past as she would like and it's weighing her down. She has a lot of baggage, so it takes a while get into her, without constantly feeling sorry for her. Still when Rachel's together with Fred we get to see this more open and silly side from her, that appealed to me more.
Another fun book in the Bachelor Firemen of San Gabriel series. I simply love the heroes Jennifer Bernard writes and in this series they really are heroes. You read a lot of books about cops and soldiers, though not often we get the chance to be so close to the real fire. These firemen are amazing and I just can not get enough of them.
3.5
The Bachelor Fireman Of San Gabriel - Reading order and purchase links
All novels can be read as a standalone, though you will probably want to read them all :)
Jennifer Bernard is the USA Today bestselling author of the Bachelor Firemen of San Gabriel series. A graduate of Harvard and a former news promo producer. The child of academics, she confounded her family by preferring romance novels to any other books. She left big city life for true love in Alaska, where she now lives with her husband and stepdaughters. She's no stranger to book success, as she also writes erotic novellas under a naughty secret name not to be mentioned at family gatherings.
Besides reading, writing and living romance, another passion is Ashtanga yoga. She practices daily, and has traveled to Thailand, India and Hawaii to learn from the best teachers on the planet. Other than that, she love hiking, meditating, hazelnut chocolate, the children she is graced to have in her life.