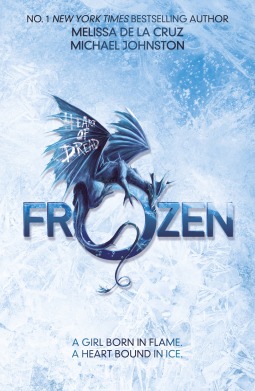 Welcome to New Vegas, a city once covered in bling, now blanketed in ice. Like much of the destroyed planet, the place knows only one temperature—freezing. But some things never change. The diamond in the ice desert is still a 24-hour hedonistic playground and nothing keeps the crowds away from the casino floors, never mind the rumors about sinister sorcery in its shadows.

At the heart of this city is Natasha Kestal, a young blackjack dealer looking for a way out. Like many, she's heard of a mythical land simply called "the Blue." They say it's a paradise, where the sun still shines and the waters are turquoise. More importantly, it's a place where Nat won't be persecuted, even if her darkest secret comes to light.

But passage to the Blue is treacherous, if not impossible, and her only shot is to bet on a ragtag crew of mercenaries led by a cocky runner named Ryan Wesson to take her there. Danger and deceit await on every corner, even as Nat and Wes find themselves inexorably drawn to each other. But can true love survive the lies? Fiery hearts collide in this fantastic tale of the evil men do and the awesome power within us all.
You immediately get thrown into the story, without any background and it left me feeling like I missed a part somewhere. A slower introduction into this apocalyptic world would have been nice, since I had to figure out everything myself.
While this story and characters definitely had the potential to be captivating, I mostly felt detached from everything. It's world where there seem to be no adults, a sixteen-year-old is a war veteran and there are people born with magic kind of. The biggest contradiction was the sixteen-year-olds actually. Nat and Wes are both that age and due to circumstances children need to grow up way faster, I can understand that. Most of the time they act a lot older, though they are definitely not mature. It's that constant switching that drove me crazy. You either make them out to be mature, with some minor sixteen-year-old moments or you make them think and act like teenagers.
Let's talk plot. Well it was there and that's about it. There is a general sense of where this story was going, but the execution lacked a lot. The flow from one scene to another was either very unclear, as it blurred together or it jumped without a transition.
I've read a lot of apocalyptic books where the main characters were teenagers that were way better executed on all points.
Also when receiving a copy through NetGalley there are sometimes some minor editing or spelling mistakes, which is comprehensible and I never have much problem with those. Frozen was first released in 2013, so I'm guessing there is already a final edited copy of this book. What I received was not a finished copy at all and I'm not talking about some minor issues. When three out of four sentences don't start with a capital, I go nuts after four sentences. The same with the formatting, on one page the sentences only fill half of page and are all typed below each other and on the next page it's pretty normal. This made it a hassle to read. Now I know when you buy this book, these mistakes should be gone. Still I would have liked to have received a more finished copy, since this book has been out for over a year.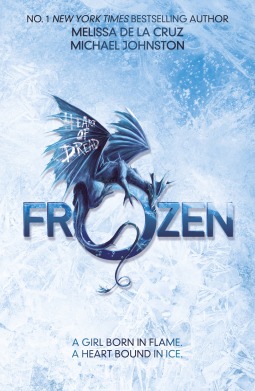 Melissa de la Cruz is the New York Times and USA Today best-selling author of many critically acclaimed and award-winning novels for teens including The Au Pairs series, the Blue Bloods series, the Ashleys series, the Angels on Sunset Boulevard series and the semi-autobiographical novel Fresh off the Boat.
Her books for adults include the novel Cat's Meow, the anthology Girls Who Like Boys Who Like Boys and the tongue-in-chic handbooks How to Become Famous in Two Weeks or Less and The Fashionista Files: Adventures in Four-inch heels and Faux-Pas.
She has worked as a fashion and beauty editor and has written for many publications including The New York Times, Marie Claire, Harper's Bazaar, Glamour, Cosmopolitan, Allure, The San Francisco Chronicle, McSweeney's, Teen Vogue, CosmoGirl! and Seventeen. She has also appeared as an expert on fashion, trends and fame for CNN, E! and FoxNews.
Melissa grew up in Manila and moved to San Francisco with her family, where she graduated high school salutatorian from The Convent of the Sacred Heart. She majored in art history and English at Columbia University (and minored in nightclubs and shopping!).
She now divides her time between New York and Los Angeles, where she lives in the Hollywood Hills with her husband and daughter.