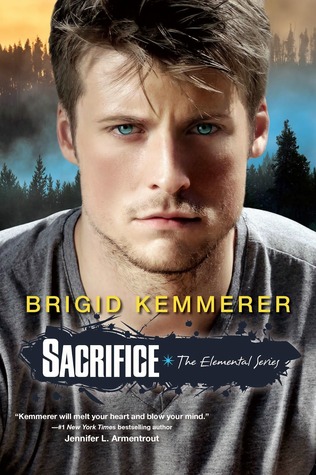 Earth. Fire. Air. Water.

One misstep and they lose it all. For the last time.

Michael Merrick understands pressure. He's the only parent his three brothers have had for years. His power to control Earth could kill someone if he miscalculates. Now an Elemental Guide has it in for his family, and he's all that stands in the way.

His girlfriend, Hannah, understands pressure too. She's got a child of her own, and a job as a firefighter that could put her life in danger at any moment.

But there are people who have had enough of Michael's defiance, his family's 'bad luck'. Before he knows it, Michael's enemies have turned into the Merricks' enemies, and they're armed for war.

They're not interested in surrender. But Michael isn't the white flag type anyway. Everything is set for the final showdown.

Four elements, one family. Will they hold together, or be torn apart?
I started reading the Elemental series as part of my Saturday Series posts. While I don't remember how I discovered this series, I do know I loved the Merrick brothers. Four boys who have lost their parents, each one having this magical power to control an element, it was right up my alley.
In the previous books the focus was mainly on the younger brothers and their friends. Michael being the eldest is the one who has to take care of the others and that creates a certain distance. He's not their dad, but he's not quite their brother either. I believe him to be a very strong character, taking on that responsibility so young. He never asked for help, though people would have gladly given it too him. Besides the whole financial and responsibility part, Michael is also the one trying to protect his brothers from the people after them.
Throughout all these books that pressure has been rising and it seems to have come to a breaking point. The threat has never been so dangerous and it's difficult to fight an unknown enemy. Michael is scared and things are just getting worse and going completely out of control. though I have to say I was surprised how non involved the other brothers were in this story. It's almost like the author was making up for the lack of Michael in the previous books, by physically ciphering out the others. Which was a bit disappointing to me as I love their family dynamic.
As for Hannah, I liked her more in the previous books, she was pretty cool back then. Now she confused me. I believe her feelings for Michael and his brothers are true and I could see that connection, though it stayed pretty superficial. At times I was wondering if Hannah was really twenty-three and a mom, or still a teenager. The maturity I had become used to of her, seemed to have vanished. I also would have liked to have seen more of her bond with her kid, who wasn't really present here.
This is currently the last book in the series, with the same publisher, but it probably won't be the last we hear about the Merrick brothers (source). I am very glad to hear this, because well I wasn't very happy with the ending. There are still so many things up in the air and unresolved, it's making me unnerved. Also one part I did not see coming and I'm still hoping it's going to turn into a happy ending somehow.
While I enjoyed reading this (currently) last installment in the Elemental series, it's not the best one. Michael is a very interesting character, one I admire for the way he handles everything with his brothers and the love he has for them. The plot though felt lacking and there was just no spark to get my emotions really involved.
Elemental series - Reading order and purchase links
Brigid Kemmerer finds the time to write somewhere between caring for her family and working at her day job, but sometimes she ends up mothering her coworkers and managing her family. Storm: The Elemental Series is her first novel.