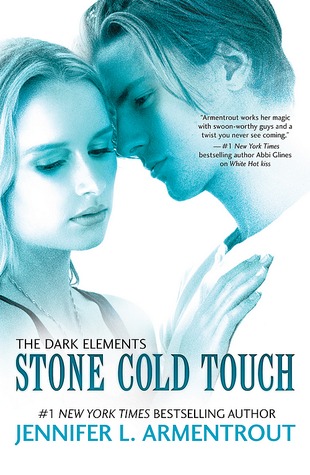 Every touch has its price

Layla Shaw is trying to pick up the pieces of her shattered life—no easy task for a seventeen-year-old who's pretty sure things can't get worse. Her impossibly gorgeous best friend, Zayne, is forever off-limits thanks to the mysterious powers of her soul-stealing kiss. The Warden clan that has always protected her is suddenly keeping dangerous secrets. And she can barely think about Roth, the wickedly hot demon prince who understood her in ways no one else could.

But sometimes rock bottom is only the beginning. Because suddenly Layla's powers begin to evolve, and she's offered a tantalizing taste of what has always been forbidden. Then, when she least expects it, Roth returns, bringing news that could change her world forever. She's finally getting what she always wanted, but with hell literally breaking loose and the body count adding up, the price may be higher than Layla is willing to pay…
*Do not read this review if you haven't read the previous book.*
The last thing we read was Roth going down to hell, literally. They managed to stop Lilith from rising, but in exchange they lost Roth. Layla was of course heart broken, though she tries not to give in to those sad feelings too much. When weird things start happening at school her attention gets directed and when Roth suddenly reappears, you know things are bad.
Roth is still hot and bad ass, but something has changed between him and Layla while he was gone. When Zayne starts stepping up more, Layla is torn between the two boys. I believe she belongs with Roth. While Zayne might be a good guy, I feel it's a bit too little too late. Though for Layla it isn't that easy. Zayne has always been there for her, her only friend in the house and she's had a crush on him for so long that it makes things more difficult. Roth is behaving weirdly and thus the distance between him and Layla grows bigger, giving Zayne a chance to sweep in. Very high school drama honestly this part and Layla was often very naive when it came to these two boys. It was so clear for everyone around her how these boys feel about her, and she herself was constantly torn, though honestly her thoughts mostly drifted towards Roth. At least that is how I see it.
So besides all the love drama, there is still that other tiny problem of people dying and turning into wraiths. While the Lilith is still captive, it seems a little part of her did escape and is now causing havoc. With Layla's powers changing, it makes things even more difficult to find out who did it. She even starts doubting herself, and slowly the people around her start to. I was also led astray by this and honestly did not see it coming who was causing all of this.
Then that last quarter of the book really turns things upside down. I knew Layla never really felt at home with the Wardens, but what happens here just takes the cake. Pissed does begin to describe how mad I was, though it definitely was an epic Roth scene. In the end though we are left with another cliff hanger. I admit this one sucked, because it didn't really feel like some kind of end, rather than "let's cut this chapter in half".
I am curious of course how everything will play out in the end and who Layla will choose to have her happy ending with. This was another fun installment and there are a lot of new creatures introduced, which is always interesting. I do feel like I'm a bit over the whole love triangle thing and all the drama and insecurities that it creates. Still plenty of action, romance and humor to make this an entertaining series.
3.5
The Dark Elements - Reading order and purchase links
# 1 New York Times and USA Today Bestselling Author Jennifer L. Armentrout Lives in West Virginia.
All the rumors you heard about her state aren't true.
Well, mostly. When she's not hard at work writing, she spends her time, reading, working out, watching zombie movies, and pretending to write.
She is the author of the Covenant Series (Spencer Hill Press), the Lux Series (Entangled Teen), Don't Look Back (Disney/Hyperion) and a yet untitled novel (Disney/Hyperion), and new YA paranormal series with Harlequin Teen.
Jennifer also writes New Adult and Adult romance under the pen name J. Lynn. The Gamble Brothers Series (Tempting the Best Man/Tempting the Player) and Wait for You. Under her pen name, she is published with Entangled Brazen and HarperCollins.