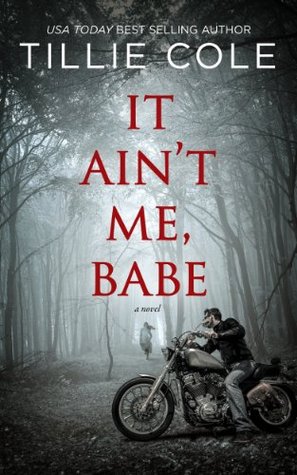 Sinning never felt so good…

A fortuitous encounter.

A meeting that should never have happened.

Many years ago, two children from completely different worlds forged a connection, a fateful connection, an unbreakable bond that would change their lives forever…

Salome knows only one way to live—under Prophet David's rule. In the commune she calls home, Salome knows nothing of life beyond her strict faith, nor of life beyond the Fence—the fence that cages her, keeps her trapped in an endless cycle of misery. A life she believes she is destined to always lead, until a horrific event sets her free.

Fleeing the absolute safety of all she has ever known, Salome is thrust into the world outside, a frightening world full of uncertainty and sin; into the protective arms of a person she believed she would never see again.

River 'Styx' Nash knows one thing for certain in life—he was born and bred to wear a cut. Raised in a turbulent world of sex, Harleys, and drugs, Styx, unexpectedly has the heavy burden of the Hades Hangmen gavel thrust upon him, and all at the ripe old age of twenty-six—much to his rivals' delight.

Haunted by a crushing speech impediment, Styx quickly learns to deal with his haters. Powerful fists, an iron jaw and the skillful use of his treasured German blade has earned him a fearsome reputation as a man not to be messed with in the shadowy world of outlaw MC's. A reputation that successfully keeps most people far, far away.

Styx has one rule in life—never let anyone get too close. It's a plan that he has stuck to for years, that is, until a young woman is found injured on his lot… a woman who looks uncannily familiar, a woman who clearly does not belong in his world, yet a woman he feels reluctant to let go…
This is one of those books where you berate yourself for waiting so long to read it. I honestly can not remember if I have ever read something like this. By now I've read a couple of MC books, but this takes it to a whole other level. Then that main element of the comune, the brainwashing and all the horror, just gives it a another unique twist.
Personally I don't deal well with extremism in all its forms. So when people start calling themselves prophets, and using that to brainwash people and excuse all the horrible things that they want to do, my skin simply crawls. Therefor there definitely were a lot of parts in this book, that I had some trouble with. Not with the writing, and the way it was handled, because that was all very direct and open. Just the theme on its own wasn't an easy pill to swallow. I would feel genuine anger for all the abuse and misuse in this story.
Though luckily it's a story about overcoming all those things. Leaving that past behind and looking towards the future. Discovering the truth, and rediscovering yourself or in Salome's case just forming an identity. Always being told what to do, who she was and why she was evil, weighs down on you. Now having that freedom means letting all that go, with the help of Styx, and becoming someone new.
Styx has had his own demons to deal with over the years, but by now nobody would dare to cross him. Grown up in the MC, he has known no other way of living. So when Salome enters his life again, she's pretty much the opposite of what he and the MC stand for. The adjustment from both sides isn't easy, but their love is what makes it solid. Styx will do whatever it takes to keep her by his side, to protect her from the horrors of her past in every which way they might come.
That contradiction between the two main characters is so vast, still somehow it works. While Styx and the MC might not be vile creatures, they pretty much participate in all seven sins on a regular basis. Salome though still believes in their good sides, and with all that she's been through she realizes that good and bad come in all kind of forms.
This story deals with some very heavy themes and they are not easy to swallow, but Tillie Cole has approached them in a way that you can deal with it. An unique tale that will stay with you for a while, characters that will worm their way inside your heart and an extremely rocky path that leads to happiness.
Hades Hangmen - Reading order and purchase links
Amazon & USA Today Best Selling Author, Tillie Cole, is a Northern girl through and through. She originates from a place called Teesside on that little but awesomely sunny (okay I exaggerate) Isle called Great Britain. She was brought up surrounded by her English rose mother -- a farmer's daughter, her crazy Scottish father, a savagely sarcastic sister and a multitude of rescue animals and horses.
Being a scary blend of Scottish and English, Tillie embraces both cultures; her English heritage through her love of HP sauce and freshly made Yorkshire Puddings, and her Scottish which is mostly demonstrated by her frighteningly foul-mouthed episodes of pure rage and her much loved dirty jokes.
Having been born and raised as a Teesside Smoggie, Tillie, at age nineteen, moved forty miles north to the 'Toon', Newcastle-Upon-Tyne, where she attended Newcastle University and graduated with a Bachelor of Arts honours degree in Religious Studies. She returned two years later to complete a Post-Graduate Certificate in Teaching High School Social Studies. Tillie, regards Newcastle to be a home from home and enjoyed the Newcastle Geordie way of life for seven 'proper mint' and 'lush' years.
One summers day, after finishing reading her thousandth book on her much loved and treasured Kindle, Tillie turned to her husband and declared, "D'you know, I have a great idea for a story. I could write a book." Several months later, after repeating the same tired line at the close of another completed story, she was scolded by her husband to shut up talking about writing a novel and "just bloody do it!" For the first time in eleven years, Tillie actually took his advice (he is still trying to get over the shock) and immediately set off on a crazy journey, delving deep into her fertile imagination.
Tillie, ever since, has written from the heart. She combines her passion for anything camp and glittery with her love of humour and dark brooding men (most often muscled and tattooed – they're her weakness!). She also has a serious side (believe it or not!) and loves to immerse herself in the complex study of World Religions, History and Cultural Studies and creates fantasy stories that enable her to thread serious issues and topics into her writing -- yep, there's more to this girl than profanity and sparkles!
After six years of teaching high school Social Studies and following her Professional Rugby Player husband around Europe, they have finally given up their nomadic way of life and settled in Calgary, Alberta where Tillie spends most of her days (and many a late night) lost in a writing euphoria or pursuing a dazzling career as a barrel-racing, tasselled-chap wearing, Stetson-sporting cowgirl... Ye-haw!