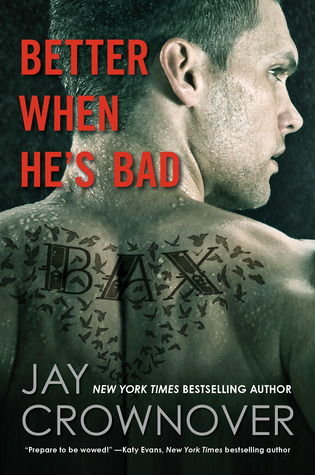 Welcome to the Point

There's a difference between a bad boy and a boy who's bad . . . meet Shane Baxter.

Sexy, dark, and dangerous, Bax isn't just from the wrong side of the tracks, he is the wrong side of the tracks. A criminal, a thug, and a brawler, he's the master of bad choices, until one such choice landed him in prison for five years. Now Bax is out and looking for answers, and he doesn't care what he has to do or who he has to hurt to get them. But there's a new player in the game, and she's much too innocent, much too soft…and standing directly in his way.

Dovie Pryce knows all about living a hard life and the tough choices that come with it. She's always tried to be good, tried to help others, and tried not to let the darkness pull her down. But the streets are fighting back, things have gone from bad to worse, and the only person who can help her is the scariest, sexiest, most complicated ex-con The Point has ever produced.

Bax terrifies her, but it doesn't take Dovie long to realize that some boys are just better when they're bad.
We are used to Jay Crownover to write about bad boys. While in Marked Men those guys have attitude problems, tattoos and are players, in their core they're not really bad. They're even pretty good. This isn't the case with Bax.
The guy is a criminal and has no ambition to improve his life whatsoever. He was just released from a five year stint in jail and his first thought is revenge. Going to jail has left him with some unfinished business that needs tending to. This mostly includes finding his best friend Race and getting rid of his former boss Novak.
While looking for race, he finds Dovie. She's apparently Race's sister. Not quite someone you would expect to find in The Point. While her upbringing was also harsh, she somehow made it out untouched. With that I mean, she has a good heart, is a nice person and still believes in making the world a better place. Bax didn't make it out unscattered, and is someone 97% of the people he meets are scared off for a reason.
It seems everyone is looking for Race though and Dovie wants to help Bax find her brother. She considers Race a bit of a hero for getting her out of a bad situation and well he's family. Things are dangerous in The Point and it seems safer to keep Dovie close to him. Race would never forgive Bax if something happened to his sister.
Though Bax never promised to keep his hands off her. It would be wise for them not to cross the line, but Bax is a bad guy, used to taking what he wants. Things don't just heat up between him and Dovie, it's an inferno. Those intimate scenes were smoking, panty dropping hot.
I liked Bax, though not that I would ever want him to be my boyfriend or anything like that. While I don't believe that he's to the core bad, I do realize he makes bad decisions and does bad things, fully knowing they're not good and not caring about the consequences. He does show a little bit of a softer side towards Dovie, but that only amplifies his attitude towards the rest. If he likes you, you are good. If he doesn't, you better run.
You have people growing up in place like The Point, wanting to do anything to leave that behind and go somewhere better. Then you have people like Bax who just seems fated to stay in The Point forever and live the criminal life to the fullest. What you need to realize is that he will never be a good guy, he just has good moments.
Dovie like I said has a certain innocence about her. Her life hasn't been easy and she knows how to take care of herself. Still she also wants to help people, user her bad experience and turn it into something good. I also liked how she wasn't out to save Bax. She accepts him the way he is, as long as he is willing to do the same and mostly daring to come to her.
All in all I loved this book. Jay Crownover has quickly become one of my must read authors. I really like how in her writing and her stories, she doesn't sugarcoat things. It's all very direct and honest, which often doesn't make it ideal, but it makes it real. To me that is awesome, that realness and with this book even raw. Add those amazing characters with strong personalities and I am hooked.
4.5
Welcome To The Point - Reading order and purchase link
Jay Crownover is the New York Times and USA Today bestselling author of the Marked Men series. She also introduced the dark and sexy world of The Point that started with BETTER WHEN HE's BAD and is currently working on her newest series The Saint of Denver. Like her characters, she is a big fan of tattoos. She loves music and wishes she could be a rock star, but since she has no aptitude for singing or instrument playing, she'll settle for writing stories with interesting characters that make the reader feel something. She lives in Colorado with her three dogs.